Grindstone: Advanced Time Management And Productivity Tool
Grindstone is a comprehensive productivity-measurement application that encompasses a list of useful tools to generate an overall productivity report. It is developed to simplify task scheduling and time management to make user more efficient in meeting tight project schedules.
It requires you to feed it with the tasks-specific information, to keep tab on time you will be spending until completion. It works silently in the background without disrupting any of your work and after installation you will see it sitting in the system tray. Coming back to the main functionality, it incorporates all the elements and functions which are in some way or other related with your home or professional task such as; Automatic away detection, Advance task & time management functions, and Customizable billing calculation, etc.
Flexible billing calculation feature is solely included to measure out working hours to correctly scale billing on hourly/weekly/monthly basis or on any agreed terms. This will largely help you in finding out the loop holes in billing criteria and eventually comes beneficial in enhancing overall productivity.
Usage is complex for novices as it includes enormous options and features. However, to steer an amateur user clear, it comes with a detailed help manual for better understanding. To begin, from Tasks menu, click New Task and add all the required information with time duration.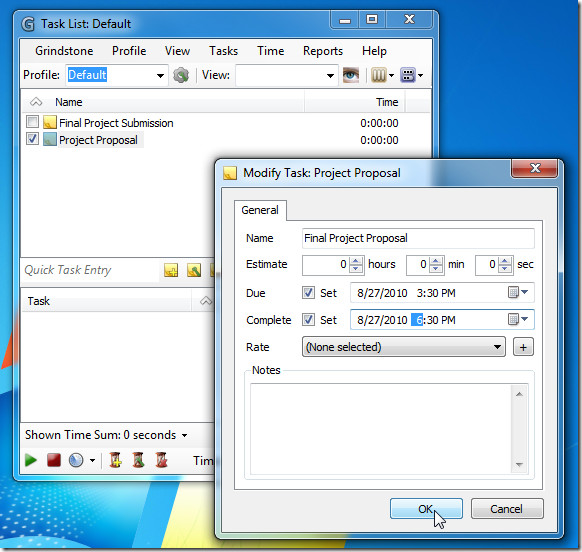 You can add as many tasks as needed, all are listed in the main interface. From the task's right-click menu, you can start, create, modify, delete the task, add time to the current task, and set billing rate.  Once you have listed all the tasks, you are ready to start one. On starting a task, you will see a stopwatch floating on the screen to keep yourself updated with time schedules.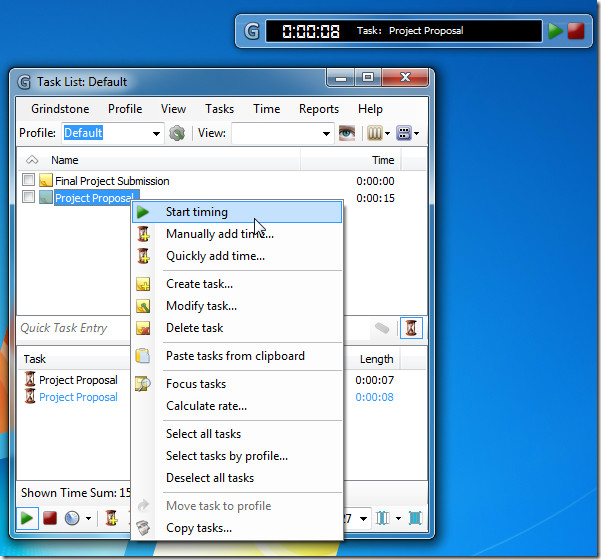 The application is very expressive and vocal in terms of interactivity. From Options, you can adjust time to let it notify you when you're spending more than specified time working off the tasks or off the system. Once you come back, it will ask if you've spent time related with the current task or not. If yes, you can allocate time to the specified task for evaluating the performance accordingly.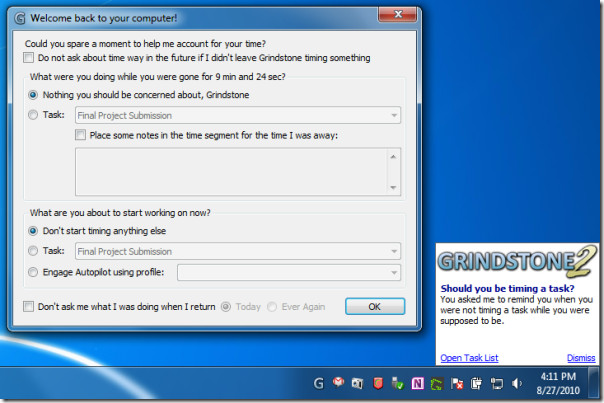 Other notable features:
Egg Timer: To set alerts for yourself which are not related with the listed tasks.
Autopilot: It automatically creates and times the tasks as you switch between Windows programs.
Reminder: To remind you of the amount of task that has been completed, tasks you are currently working on, etc.
Multiple Profile Creation: For creating different profiles for different tasks, billing rates, etc.
Travel Installation: To make Grindstone portable, it allows you to import and export your data.
It works on Windows XP, Windows Vista and Windows 7. Testing was done on Windows 7 x86 system.