GTKRawGallery Is A Powerful Photo Manager & Editor For Photographers
The advent of DSLR cameras and their ever-decreasing prices have turned many into part-time photographers lately. While photography is an exciting activity, it becomes much more fascinating when properly done using a DSLR. DSLRs as well as many high-end point-and-shoot snappers produce images in RAW format by default, and not many conventional image viewers and gallery manager programs support RAW formats, with all their manufacturer-specific variations. Though with apps like GTKRawGallery, you won't need to worry about this issue at all. It's an open-source program designed to handle RAW images with ease. The application is reminiscent of Photivo and RawTherapee that we reviewed quite a while ago, and packs tons of photo editing and management features.
GTKRawGallery is a user-friendly photo manager that doubles as a powerful photo editing tool. It lets you work with various image formats including but not limited to RAW, JPEG, BMP, PNG et al. The application can post-process images with 16 bits per channel pipeline. Other useful features include batch conversion and batch processing of photos, fast tagging, advanced metadata editing with full EXIF, XMP and IPTC write support, impressive color management options, Facebook, Flickr, Picassa and Dropbox sharing support, and more.
When it comes to the UI and design, the application looks just like, well, a photo organizer. It provides a well laid-out workspace where you can view and organize your photos. You can use the Directory tree on the left to browse your image folders. Clicking a folder shows thumbnails for all the images it contains in the right pane. The toolbar at the top lets you perform further actions like selecting the thumbnail style, sorting them, selecting images, rotating and zooming them, and so on.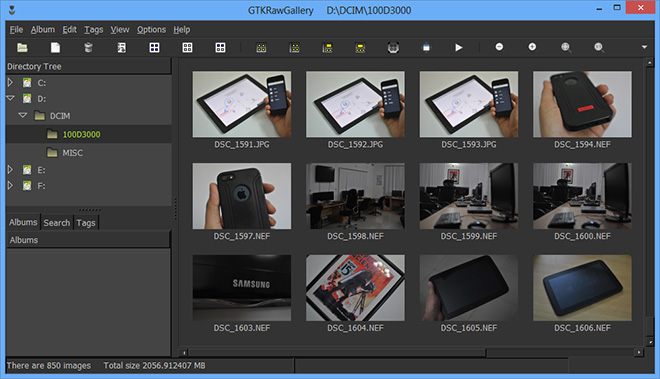 The application also offers a full screen mode and lets you view photos as a slideshow. Double clicking a thumbnail opens the image in a separate window, throwing in a myriad of photo adjustment tools to the right side. You can tinker with various parameters like saturation, brightness, contrast, blur, white balance, gamma, exposure and so on. Likewise, there's a Dcraw tab that provides an advance set of image manipulation options to control various aspects of the photo, ranging from brightness to median filter, interpolation quality, output and channel multipliers etc. Many of these options are designed for power users in mind.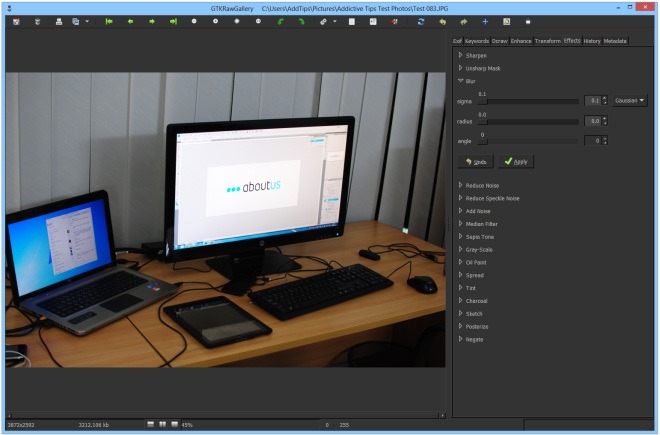 GTKRawGallery also makes it possible to view and edit EXIF and Metadata of the image file. Apart from that, you can assign keywords to the images that in turn makes finding them from a large number of photos a breeze. The Effects tab is another interesting section and contains different filters that you can apply to your image. You can control image sharpness, blur, tint, grayscale, noise etc., or simply apply effects like posterize, sketch or charcoal.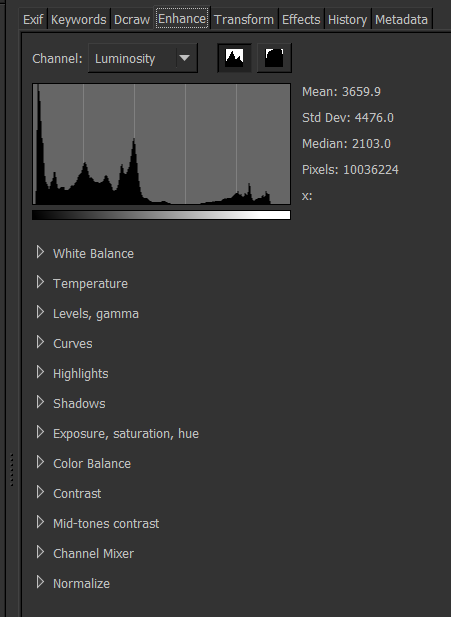 To sum it up, GTKRawGallery is a powerful image gallery with a myriad of editing options and settings. The application works on Windows XP, Vista, 7 and 8.