Hands-On With New Features In iTunes 11 [Review]
In what might be the most delayed iTunes release from Apple ever, iTunes 11 was finally bumped to the users a few hours ago. The management suite's major revamp was announced with the release of iOS 6, but it took a few months for it to actually become available. iTunes has always been unpopular, even with the most loyal Apple fans. With the recent update though, it is nice to see that almost all the issues that caused many horror stories of data loss and syncing failures have been addressed in the revamped interface. A lot of unpopular features (like Cover Flow and iTunes DJ) are gone and replaced by things that actually get the job done. Although still not perfect, iTunes's iCloud integration is now much more comprehensible than before. In iTunes 11, Gift Cards can be scanned using a Mac or PC's camera, which will surely save users a lot of bother in the upcoming holiday season.

Here is all that is new and noteworthy in iTunes 11.
A Shiny New Interface
When it was first introduced, many people labelled cover flow out of sync with other UI elements of iTunes, and perhaps that's why it has been ditched by Apple in this update. Another major thing that is no longer visible by default on the main screen is the side bar that listed all the major shortcuts.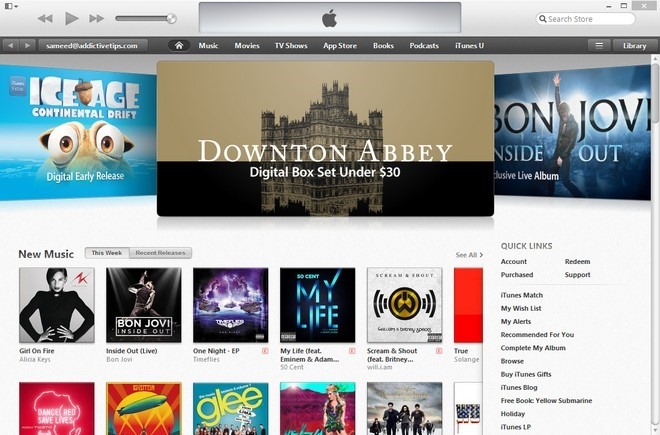 iTunes 11 sports a 'History' button in the top-right corner that lets you review your past purchases and activities. If there is a playable file in History, you can preview it within that box simply by hitting the play button next to it. Since the sidebar is missing, users will have to switch between iTunes store, library and device view using the buttons located in the top bar. In the Mac version of the application, the three colored buttons have been fixed to work in the manner they usually do in other OS X apps.
Missing the sidebar way too much? Don't fret; Apple hasn't entirely removed it from the interface, but rather hidden it by default. If you can't do without it, you can easily get the sidebar back in iTunes 11.
iCloud Integration
If you want to sync all your purchases with iTunes across different Apple devices over iCloud, go to the application's 'Preferences' menu, hit 'Store' and select all the items you want to sync. You will have to turn on iCloud on your devices as well for this to work, of course. Another great thing about iTunes 11 is that you can download individual music files from iCloud so that they become available for offline playback. iTunes 11 also adds a cloud symbol next to the media that has been synced with iCloud.
Expanded View For Albums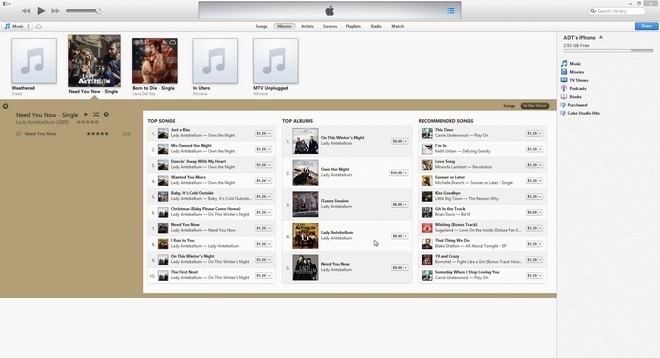 While cover flow has been taken away, its replacement – the expanded view – isn't bad at all. All the songs and albums in your library have this feature; just tap an album's thumbnail and you will see all the songs listed under it. The background of this expanded view matches that of the album art, which can help you go through your library in a more organized manner while adding a great visual touch to the experience. To search the iTunes Store for similar albums, there is the 'In the Store' button that will show you related songs, albums and other recommendations related to the currently playing music.
Playlists
With iTunes 11, adding media to your playlists is much more streamlined and easier than before. Simply drag a song in your library towards the right of the screen, and all your playlists will automatically come into view, allowing you to drop the file into the desired one straight away.
Up Next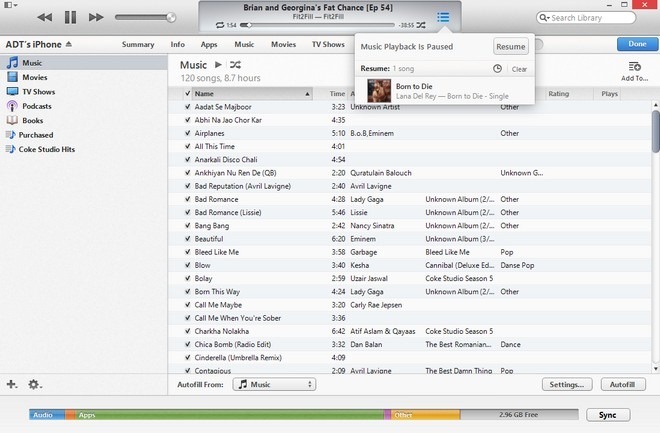 Up Next is a new feature introduced in iTunes 11 that can be seen as a combination of playback history and a 'Now Playing' menu. If you are already playing songs from a list, Up Next gets populated automatically, but users can also add tracks to it manually by choosing the 'Add to Up Next' option from the context menu of the file. To view the playback history, just hit the small clock icon.
MiniPlayer

The MiniPlayer has received a complete UI overhaul as well. Gone are the faux UI elements, and the new look is remarkably cleaner and elegant. The omnipresent Up Next button is now present in the MiniPlayer as well, along with search and AirPlay options. The MiniPlayer can be accessed via the options button in the top-left corner, or you can use the CTRL+Shift+M (Command+Shift+M on Mac) keyboard shortcut to switch to it. On Mac, there is also a new special toggle for it next to the full screen button in the top-right corner.
Redeem Gift Cards Using computer Cam
If you have a newer iTunes gift card, you can simply put it in front of your Mac or PC's camera to redeem the apps of your choice. Although this hasn't been confirmed yet, this feature is unlikely to work with older gift cards.
Download Manager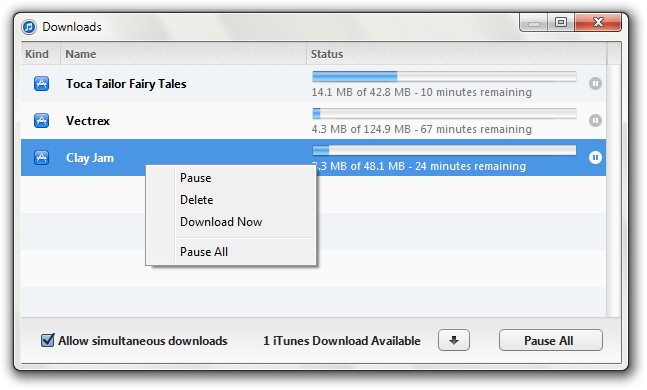 With the increase in the average size of apps, more and more people have started downloading them using the iTunes desktop client. So, it is nice to see that Apple has paid special attention to the 'Downloads' section in iTunes 11. You can now carry out multiple downloads simultaneously, with Pause and Delete options available for individual files. The estimated time till completion is written against each file, and the bottom bar will let you know if there are any queued downloads available from previous sessions. This new manager window shows up whenever a download is initiated, and can also be accessed by clicking the top-right button that shows up only during active sessions.
There are also some other minor changes in iTunes 11 (like the new and polished icon), and Apple has updated its 'Remote' app as well to play nice with the new iTunes. You should see the update notification for iTunes whenever you launch it now and if you can't wait for that, there is also the possibility to force-update by heading to the 'About' section in the menu bar and choosing 'Check for Updates'. Another way of getting a taste of iTunes 11 is to head to the link below and download it from Apple's own site.