Hexonic ScanToPDF: Convert/Merge Scanned Images To PDF Format
Hexonic ScanToPDF is a flexible solution to convert scanned image files to a PDF file format. You can also convert existing images on your computer by simply dragging and dropping your files into the app. It's a great and feature-rich utility that works flawlessly, no matter which image file you throw at it. Both single and batch conversion of image files is supported.  The application also lets you merge multiple files at once, and is quite fast and easy to use. It supports all the major image formats such as JPEG, TIFF, Multipage-TIFF, BMP, PNG and GIF. More details inside.
When you hop into the application, you are introduced to a sleek looking interface. The utility has a Microsoft's Ribbon like UI with three different tabs (Home, Page Layout, PDF Options), containing a handful of options. To convert/merge image(s) ,click Open in home tab to select your files. As mentioned earlier, you can also drag and drop the files into the application. In case you want to convert an image from directly from a scanner, you can access it by clicking Select Scan Device. Other options in the Home tab include removing your image files, moving selected images left or right to sort the order as well as orient the images vertically or horizontally by clicking Rotate buttons.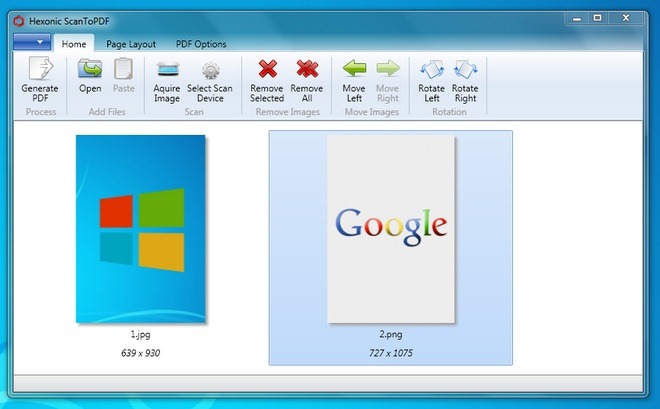 Head over to Page Layout tab to tinker more settings. Here you will be able to make changes before conversion such as Set Page Size, which gives you further options like page layout (default A4), background color, page orientation (Portrait or Landscape) and DPI (dots per inch). Additionally, you can set JPEG Quality from zero to hundred, File Size in Kilobytes and Page Margin. If you want to put multiple images on same page, you can set Layout, which will give you options to place images in number of Rows and Columns on a single page.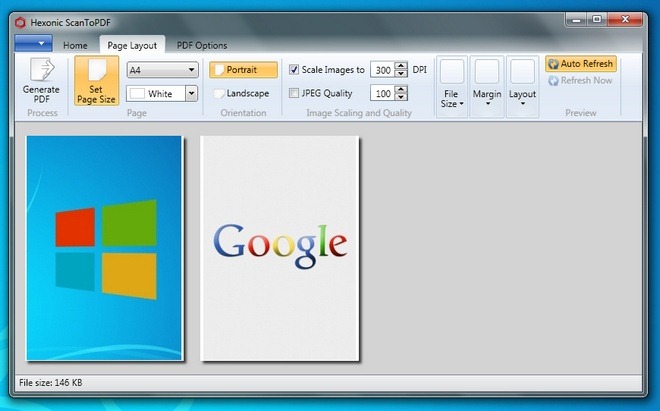 You can create single file of multiple PDF pages or a different file for each page that you generate. To select your settings, click PDF Options. In this tab you can choose to select a default output file name of the file by selecting Single PDF File and then putting mark on Always save as, afterwards you may type your desired file name. Furthermore you can select an output path of the converted file by clicking Select Path to choose output directory. You can also select Create Bookmarks to bookmark you're the documents. When everything's in order, head over to Home or Page Layout tab and click Generate PDF to start the conversion process.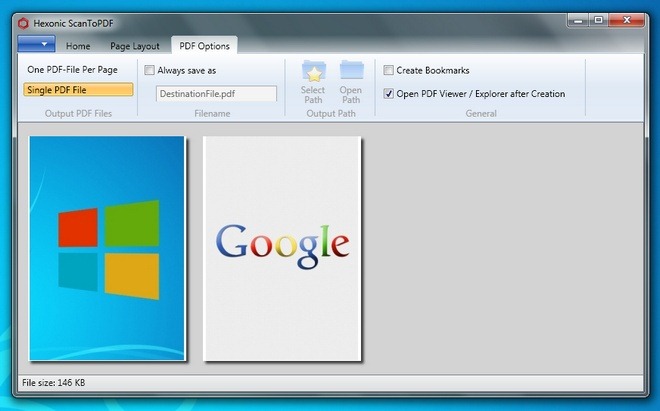 It may be pointed out that the installer offers to install Babylon toolbar to your machine, as well as setting Babylon as the default homepage and search engine. This, however, can easily be averted using the "advanced" option in setup and unchecking all the options. The application is available for free and works on Windows XP, Windows Vista, Windows 7 and Windows 8, on both 32-bit and 64-bit OS.