Hide And Launch Set Of Applications With HiddenMenu
HiddenMenu is a portable application which allows user to hide application links in specified corners of the screen. By default it hides the programs at the bottom right of the screen and can be accessed by hovering the mouse over the extreme right side of the taskbar. However, position can easily be changed, it let users add as many application as they want to hide off-screen.
It is one highly customizable application that allows user to change the overall look of the interface. Considering the flexibility, the usage is simple, simply run the executable to set up the basic settings. Under Menu Item, add an application which is to be hidden, from Popup tab, you can set the position of the hidden items pop-up such as; Bottom left, Top Left, Top Right, etc., and add another customized menu if needed. The Display window will enable you to change the outlook of the interface, you can change the Font family, Font size, Background color, Text color, Highlight color, etc.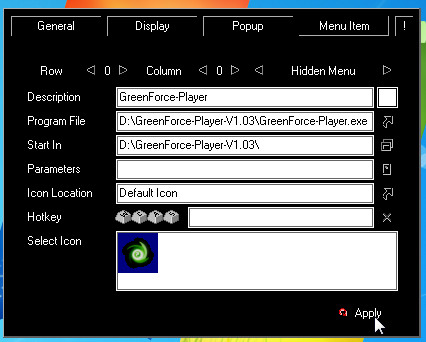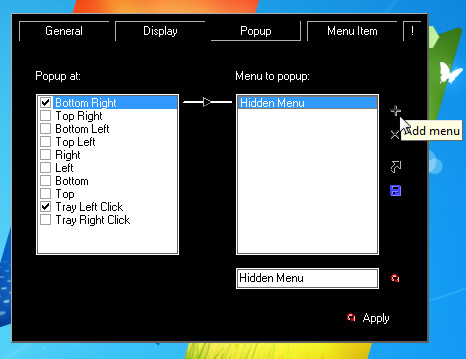 Once all settings are in place, move the mouse pointer to the specified position. You will see the a window will pop-up carrying all the added applications' links.

For adding applications, right-click in the specified position to bring up options menu and click Add. Now specify the desired application to add in the pop-up list. You can also remove an application and remove a row carrying applications from the pop-up menu by clicking the respective buttons. Down the line, if you would need to change application settings, clicking Options will bring the Configuration window.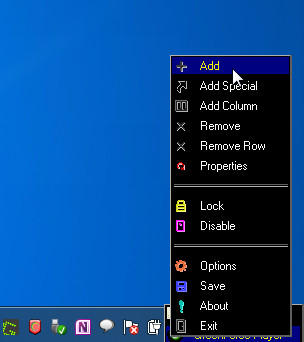 General tab refers to basic application settings, you can make it run with Windows logon, and set other pop-up related behaviors.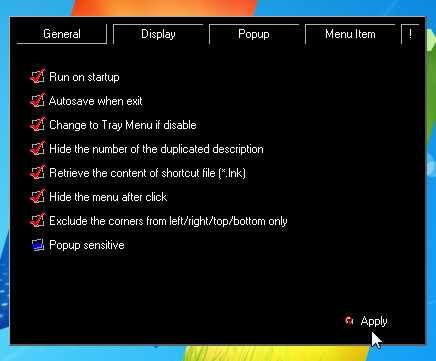 Application was originally released a while ago for XP users, however it works seamlessly in Windows 7 as well, testing was done on Windows 7 x86 system.