Hide & Password-Protect Personal Windows With Window Hider
It is quite usual to have multiple windows open on the same desktop if you have a single monitor. Multiple browsers windows, music player, instant messaging services, Windows Explorer and many other programs are part of our daily routine and prove as ingredients for most of the mess on our desktop screens. In this mess, if there's a window displaying sensitive information, it is easy to lose track of it when you are leaving your workstation. You can lock the computer if you are going away, but what if you just have to show something to your boss or colleague and don't want them to see contents of another window? Even when you minimize it, its icon can be easily seen in the Taskbar. Window Hider is a portable application for Windows that lets you hide open windows, both with and without a password. It is a simple tool that allows you to remove clutter from the desktop, and keep your privacy even when showing your desktop to someone else.
Back in November, Waqas covered a tool called WinLock that allowed you to hide and password protect any window in focus. While it lets you perform the task using a hotkey, there are two issues: you must bring the window in focus before you hide it, and it gets minimized to the system tray, enabling anyone to see the icon.
Window Hider, however, completely hides the specified windows. You don't have to bring them in focus to hide them, and they don't leave any trace in the taskbar or system tray. The application itself runs in the system tray and can be accessed by right-clicking its icon. The right-click menu contains Hide and Show menu. In the Hide menu, you'll see names of all the windows that are currently open on your desktop. Simply click a window to select it for hiding.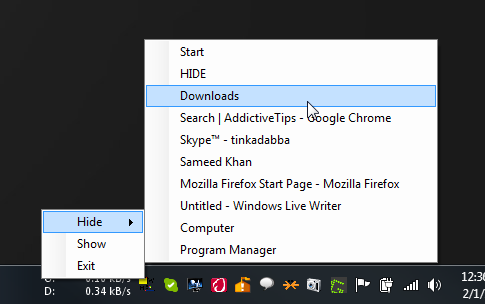 Next, a small window opens up in the middle of your screen, allowing you to add password protection to the hidden window. If you don't want to set a password, just mark the No Password option and click Hide.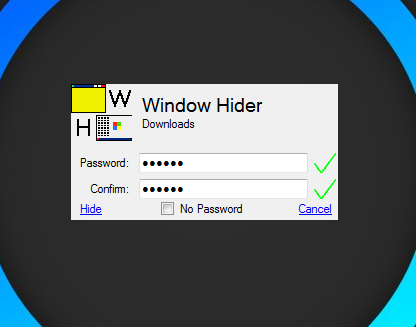 In case you choose to go with a password, make sure to remember it in order to show the window again when needed. Every time you choose a password, a notification pops up reminding you that "Forgetting the password will be catastrophic".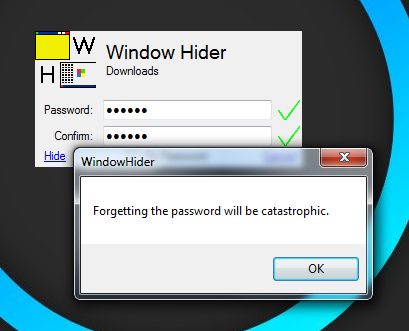 To unhide any of the hidden windows, just right-click the system tray icon again, go to Show menu and select the required window. If you had chosen a password earlier for the selected window, you will need to enter it before it is shown.

A batch-hide option to hide multiple windows at once using a password can be a welcome addition to the tool. Other than that, Window Hider works perfectly on both 32-bit and 64-bit versions of Windows XP, Windows Vista, Windows 7 and Windows 8.