Hide System Tray Icons, App Windows Or Any Part Of The Taskbar
The taskbar works like a control center for Windows that allows you manage all the running applications, launch new ones through pinned shortcuts, access the Start Menu and view the system tray items such as running services, time clock etc. The default taskbar options in Windows 7 allow you to change the Taskbar appearance, including the grouping and size of icons, the Notification area, and use of Aero Peek. Moreover, there are options to customize the Start Menu and choose the toolbars that you want to be available on the taskbar. Today, we have a tool for you called Taskbar Hide, which provides users with a lot of taskbar related options, such as hiding or closing program windows, hiding system tray icons, modifying the order of running applications on taskbar, setting application windows to stay on top, hiding a part of the taskbar, etc. The program lets you deal with the application and system tray icons individually to control the taskbar's appearance. All the options can be accessed through the main interface, as well as using hotkeys.
When you run the application for the first time, it asks you to enter a registration code. This registration is completely voluntary, if you want to help the developer; otherwise, all the features of the application can be used for free with no limitations, by clicking the Skip button.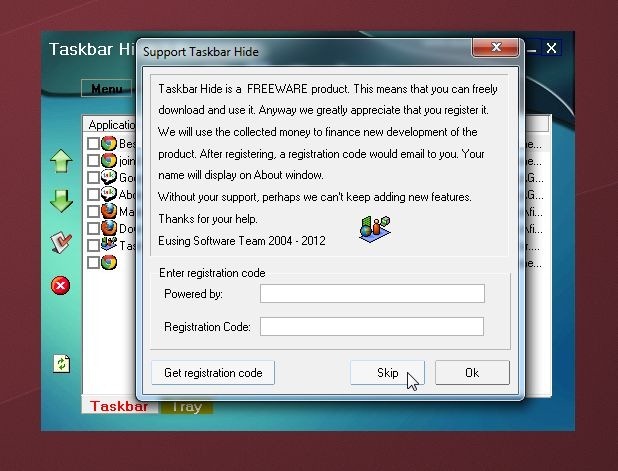 The main interface has two tabs accessible from the bottom, named Taskbar and Tray. The Taskbar tab contains the titles of all the open application windows, while the Tray tab displays a list of all the currently running services.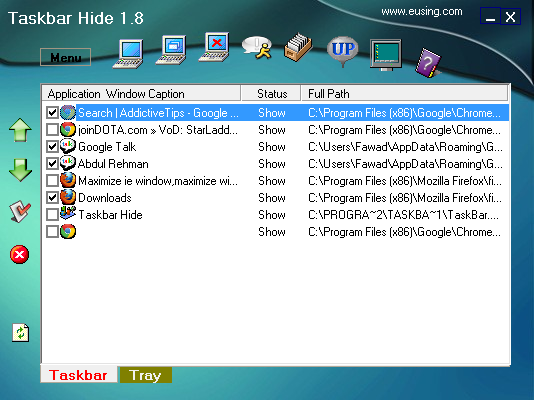 In order to hide the apps from the taskbar, just select any app from the list, followed by selecting the corresponding button from the top. Other than the 'Hide selected applications' button, the top bar provides you with options to Show selected application window, Close selected application window, Minimize selected application window to the system tray, Modify application window order on taskbar, Hide any part of the taskbar etc. When you hide a window, its status will change to 'Hide' from 'Show'.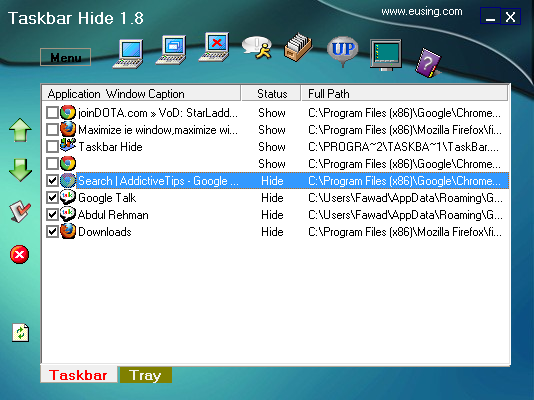 The Menu button at the top left corner also lets you perform all the aforementioned actions, displays the hotkey for each operation, and lets you access the Settings dialog box.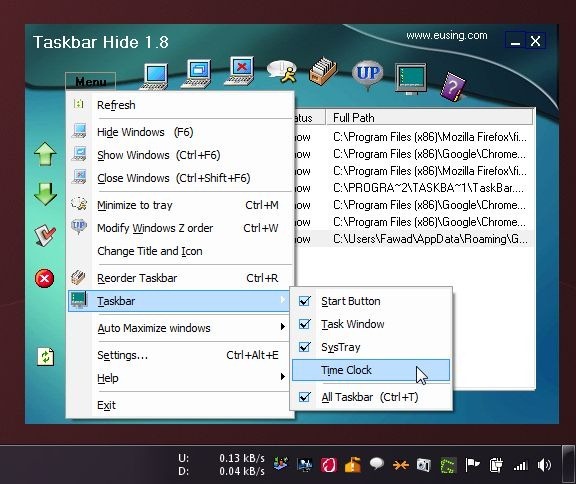 The Settings menu lets you change the Common settings, and specify custom hotkeys for performing the available actions.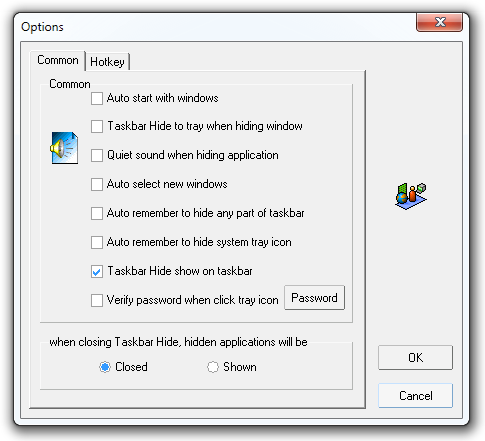 Taskbar Hide works on both 32-bit and 64-bit versions of Windows XP, Windows Vista, Windows 7 and Windows 8.