Hide Your Private Folders On Shared Computers With HiddenDIR
HIddenDIR is a portable tool which allows hiding important folders to make them invisible from other people who may have access to a shared PC. You can password protect the HiddenDIR application to ensure that only you can unhide the folders to view them at your convenience. This can be quite helpful in hiding sensitive data to ensure that it is not accessed, accidentally deleted or altered by other people who use the same computer. The aforementioned problems often occur when other people require periodic access to the same computer (such as a child at home) and in offices where a computer is used by multiple employees (e.g. employees from different shifts). With HiddenDIR you can also hide documents on a USB or external drive to enjoy data protection and privacy on portable devices.
To get started, launch HiddenDIR and create a new password. Make sure you remember the password, otherwise you will not be able to unhide the folders which are protected by this app.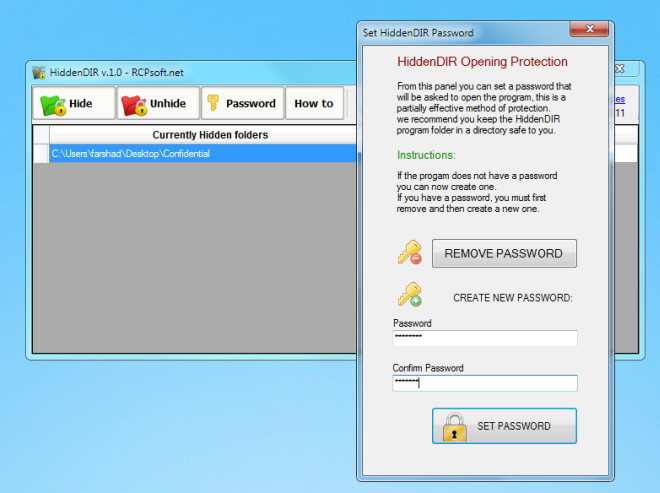 Now click Hide button to add folder(s) or sub-folder(s). All added folders will instantly become invisible after you select them.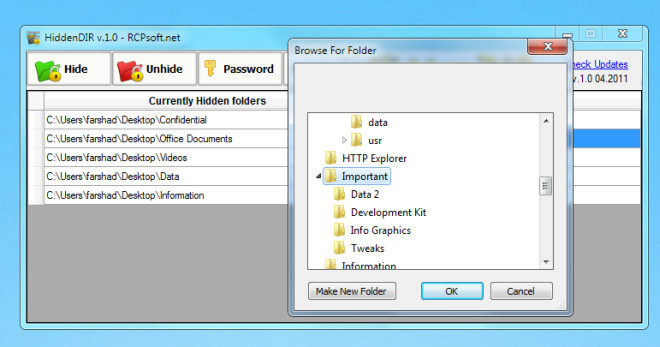 To unhide the folders, launch HiddenDIR, enter password, select the files to unhide and click Unhide button. This will display your hidden folders.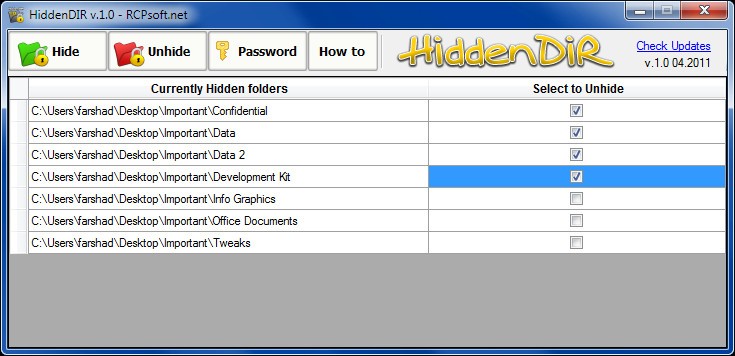 HiddenDIR is a useful tool for hiding folders to protect your data privacy, however, if your privacy need are more extensive, then check out  SafeHouse Explorer, which allows creating entire encrypted virtual drives.
It works on Windows XP, Windows Vista and Windows 7.