History Viewer: Check Browser & Windows' Activity Of Your PC
All major browsers have a history pane that allow you to view all the webpages that have been opened on your computer, sometimes even up to a couple of months back. This allows you to locate and access a URL even if you did not/could not bookmark it. Windows also saves history for visited locations, recently opened documents, searched items, Run history, typed paths etc. The problem faced when trying to access the Windows history lies in the fact that there is no central location for  accessing it. History Viewer is an application that allows you to access the history of all your installed browsers and Windows components from a single interface. Moreover, you can create HTML reports of the items included in the history lists. Read on to find out more. When the application is started for the first time, it takes some time to populate all the history lists of browsers and Windows components. The left side contains the list of Windows and browser components, while the details of the selected component will be displayed in the right side. Browsers have history lists of URL History, Address Bar, Cookies, Downloads, Input History, Form History etc. The Windows history list includes history of Recent Documents, Search History, Run History, Open/Save History, List Visited History, USB Storage History, First Folder and Typed Paths. Note that the last two lists are only available for Windows 7.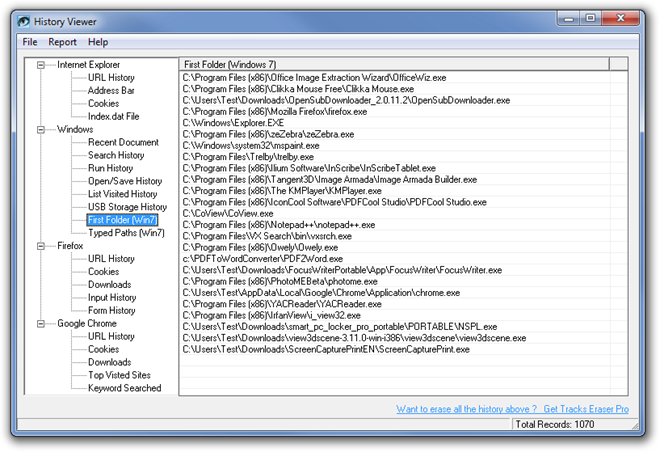 Select Create Report from the Report menu to generate an HTML report of the complete or partial history list. The application allows you to select any one or all the browsers and Windows' components for report generation. History Viewer automatically creates buttons for each component enabling easy navigation in the HTML report.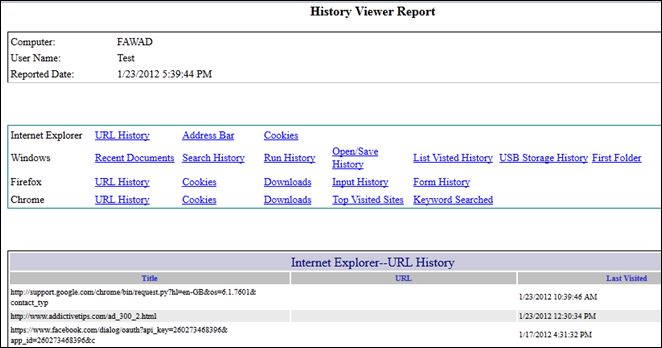 An annoyance that I came across during my testing, was the fact that if you went for any browser's history and other relevant statistics while the browser was open, the application would automatically close the browser without any type of warning. Other than that, the reports for browsers, as well as other items, are pretty detailed. The Windows flavor, however, could use some spicing up in terms of the timestamps. The developer of History Viewer advertises his creation as one for monitoring others' activities on your machine, should the need arise to lend it to someone without you being present, but in our experience, it can serve both purposes equally well. History Viewer works on both 32-bit and 64-bit versions of Windows XP, Windows Vista, Windows 7 and Windows 8.