Holdkey: Type Accented Characters In Any Text Field & Program
Having a huge user community for the Windows operating system is useful for everyone in the sense that whatever feature is lacking in Windows by default, a user creates a tool to fill that utility gap. For instance, we have seen many clipboard managers that easily surpass what native Windows clipboard can do. Third-party screen shot tools are, well, way better than what Snipping Tool has up its sleeves. Following that trend, today we found an application that satisfies the need to easily type characters and alphabets with accents, which is lacking Windows by default. Simply called as Holdkey, it is an application for Windows that allows you to easily type characters with accents in almost every window and dialog box found in the popular OS. By default, this can be done through using ALT Numpad codes or copy pasting them from a website, but there is no local support for typing special characters. Keep reading to know more about how Holdkey increases the capability of your keyboard.
According to the developer, the application has a learning curve of 1 minute. We found this claim to be perfectly accurate, and during our testing, we were able to learn how to use the software within the stated time. The main interface of Holdkey has a built-in Test box with clear instructions on how to use the program. This allows users to learn and test the features added by it before using it with text editors and input fields.
After the installation is complete, just hold down a key until the Up Arrow symbol appears in place of the pressed key character. When you leave the key, a horizontal bar will pop up with all relevant characters. You can type in the character by either clicking it, or pressing the corresponding number key.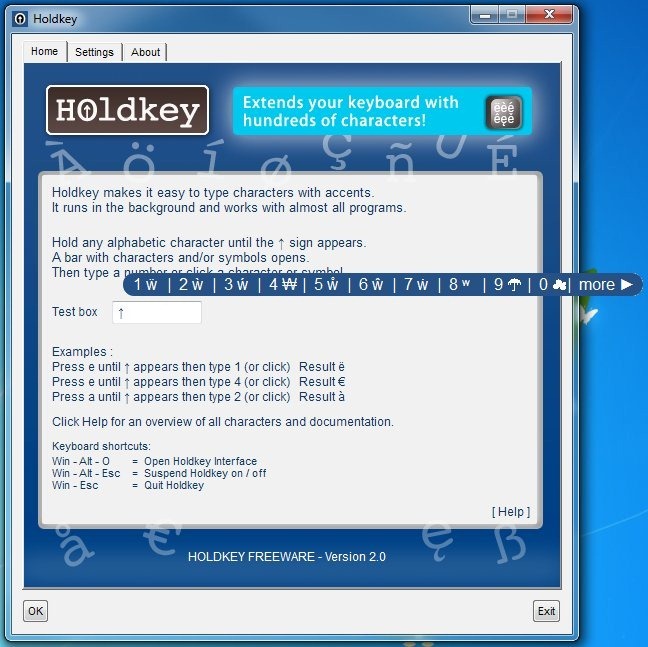 Select the more button to view additional characters in your browser. You can select character and copy it to clipboard to paste wherever you want to use it.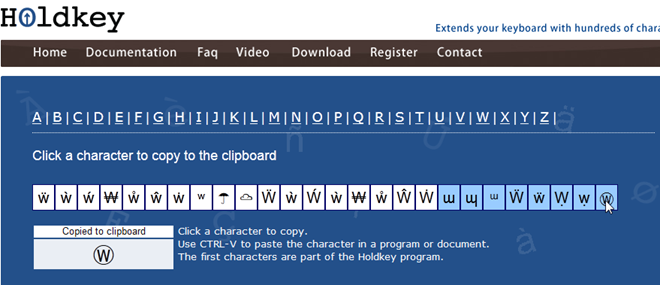 The Settings tab in the application's interface lets you configure Holdkey Settings, such as time settings for Holdkey Speed, Repeat Delay, Holdkey Active, and Holdkey Info Bar Settings including location color and size.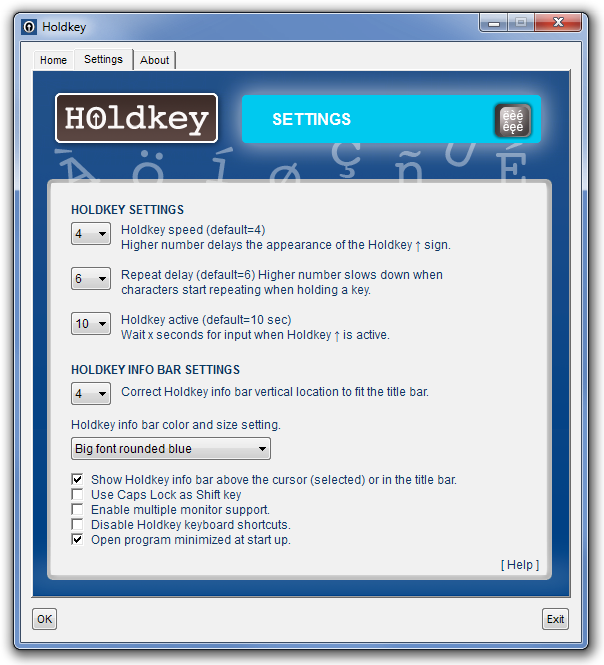 Albeit it carters a niche user base, the application is great nevertheless. Holdkey works on both 32-bit and 64-bit versions of Windows XP, Windows Vista, Windows 7 and Windows 8. Testing was solely carried out on Windows 7 Ultimate 64-bit OS edition.