Host Your Own Cloud Service On PC, Mac, Android Or iOS With SelfCloud

While iCloud is great for keeping your data synced across all your Apple devices, it isn't really useful if you want to share files from your iPhone to an Android device or a Windows PC. In addition to that, people shy away from iCloud due to all of its complexities. SelfCloud on the other hand, is really easy to understand and offers top-level security for your personal files. Services like SkyDrive and Dropbox are quite reliable, but they upload all your data to their own servers. There have often been reports of Microsoft deleting content from SkyDrive accounts without the consent of users. SelfCloud tackles all these troubles by letting you host files on your iPhone, Android, PC or Mac, effectively creating your own cloud service. You can then share the link to this personal cloud with anyone, even with those who aren't using SelfCloud.
The desktop and Android clients of SelfCloud have been around for more than 2 years, but its iOS variant has just arrived on the App Store. If you are a new user, you can register a new account from the app's main page, while existing users can log in using their old credentials. The iPhone app shows all the files hosted on different devices linked with your account. If a file is in an iOS-compatible format, you can preview it within SelfCloud, or open it with some other app installed on your device. From the settings menu, you can enable automatic downloads to ensure that all files become available on your iPhone as soon as they are uploaded to any device using your account. The app even sends push notifications when new files are uploaded, or when someone accesses the files hosted by you.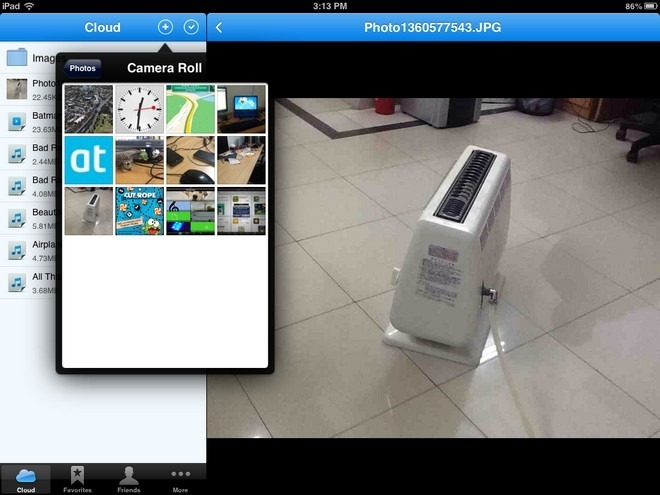 Other clients of SelfCloud are capable of uploading music, videos, documents and images, but the iPhone app only has the option of hosting photos. You can hit the small '+' icon in the top bar to load images from your camera roll, or shoot photos within the app. To keep things organized, SelfCloud offers options for creating folders and moving files around. To share one or more files, it is possible to email or SMS its link to anyone. If the recipient is on SelfCloud, a notification within the app is sent; otherwise a universally accessible link is generated.
To get the most out of SelfCloud, you should use it on iOS in tandem with a desktop client. From the service's Mac and PC apps, you can upload all sorts of files to your account. The files hosted on a desktop client show up on other devices pretty quickly, and remain available for download as long as the host is kept online.
SelfCloud is a free service, and all of its apps can also be downloaded without spending a dime. The new iOS app is optimized for both iPhone and iPad.