How To Add "Recovery Console" As A Boot Menu Option To Recover Your Windows XP Easily
Are your thinking about Recovering you Windows XP using recovery console? If that is the case then you may be asked to insert Windows CD into the CDROM and then start the recovery console in order to fix the issue. Windows XP, Windows 2000 and Windows Server 2003 features a Recovery Console which provides a mean for administrators to perform wide range of tasks using a command line interface. To ease the situation we can install the recovery console as a boot option.
Insert the Windows Setup CD, an AutoRun dialog box will appear of Windows setup, just close it.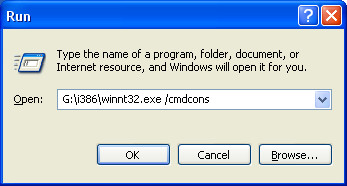 Now Click Start > Run and type G:\i386\winnt32.exe /cmdcons (where G:/ is the CDROM Drive, if you have any other drive letter of CDROM, enter that letter instead of G). Click OK to continue. The Windows Setup message will pop-up.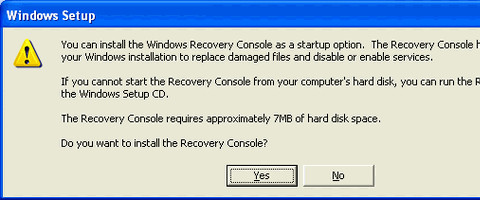 In this Windows message box, click Yes to confirm Recovery Console installation.
Recovery Console setup will now make an attempt to access the Internet and perform a Dynamic Update to the installation files. You can also skip the update by pressing Esc key to interrupt the Dynamic Update process and instead use the existing setup files.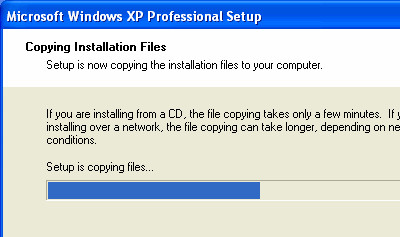 When the Dynamic Update is complete, Microsoft Windows Setup will track the installation progress to place the Recovery Console on the Boot Menu.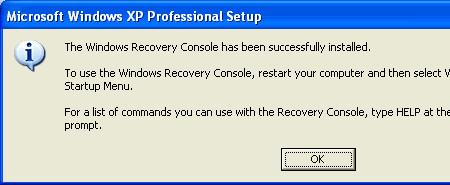 When the Recovery Console installation is completed another dialog box will be displayed to confirm a successful installation, click OK and restart the computer, now you will see a Recovery console as a boot option.