How To Arrange Windows Quick Launch Shortcuts In Groups And Sub-Menus
Do you use Windows Quick Launch bar to launch applications easily? It is a great feature that allows user to gain quick access to frequently used apps, but there is one big downside, it does not allow you to sort the shortcuts in groups. When you have lots of shortcuts, it gets quite cluttered and difficult to find an app.
Free Launch Bar is a free replacement for Quick Launch Bar and is fully compatible with it since they use the same folder for shortcuts. The difference is that Free Launch Bar lets you arrange the shortcuts in groups and is fully customizable. It also supports Hotkeys and integrates itself into Windows Shell.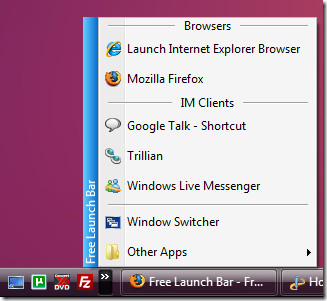 As you can see in the screenshot above, I have made two groups, Browsers and IM clients. Also you can see a new menu where I have added all types of apps that don't fall in other categories. To create a new group, menu, or to just add a separator, right-click Free Launch Bar, select New, and then select the options.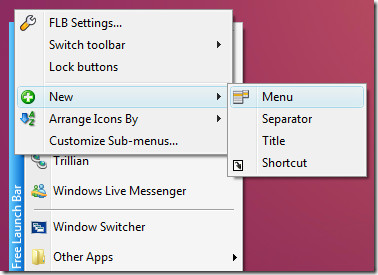 You can arrange icons by different orders and customize the sub-menus. Apart from it you can also switch the toolbar and lock the buttons. Finally you can access bunch of appearance and toolbar options by going to Settings. Options such as size of icons and hotkeys can all be accessed in Settings.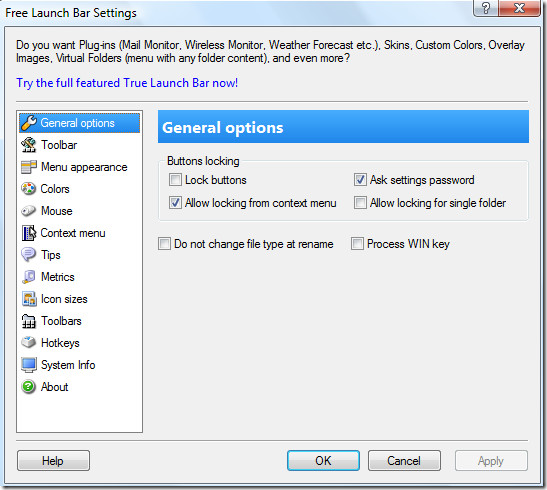 It works with both Windows XP and Vista, including both 32-bit and 64-bit operating systems. And did I forgot to mention that it leaves a very light memory footprint. Enjoy!