How To Batch Convert PDF Files To Word Format
Not everyone is familiar with PDF documents, take an example of my family members who know nothing about PDF documents but know everything about MS Word document. So when I have to share a document with them, first I will have to convert it to MS Word. Another need to convert it to MS Word arises when you need to edit something from the read-only PDF documents.
Last year I wrote about an online service that allows you to convert documents from PDF to Word format. The service instead of converting the file on-the-fly and showing you the download link, will actually send you an email after some time, which in my opinion is not productive. Another downside is that you cannot batch convert the files, instead you will have to repeat the process over and over again.
AnyBizSoft PDF To Word is a free tool for Windows that allows you to batch convert read-only PDF files to Word format instantly. This software is free but requires registration. When you run this tool for the first time, you will be shown a window where you can register for free.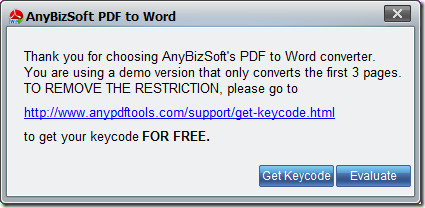 Click the link, enter your email, and they will sent the keycode immediately. Now click Register on the top-right side of the main window and enter the keycode to complete the registration.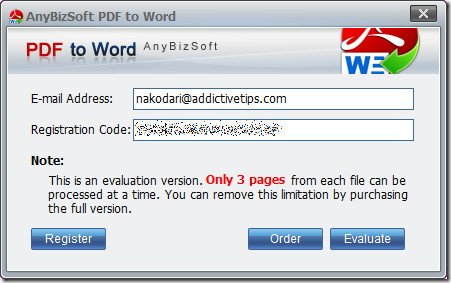 Once registration is complete, you can now start adding the PDF files that you want to convert to Word format.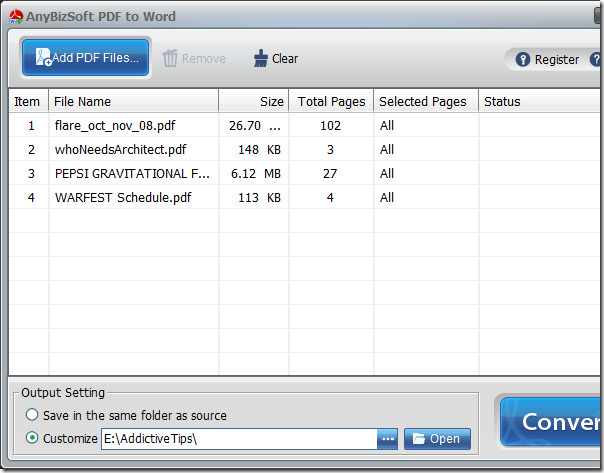 Before you hit Convert, there are two Output settings that you need to set first. You can either select to save the converted file to the same folder as source or you can define a specific destination.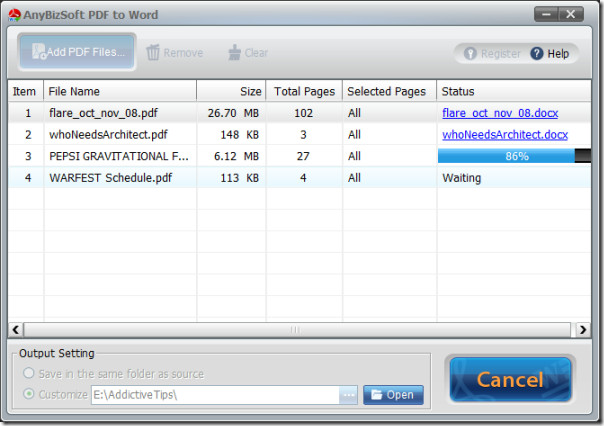 It can also convert ecrypted and password protected PDF documents. You can convert the PDF file to Word document without even launching the application, it integrates iself into the windows explorer right-click context menu.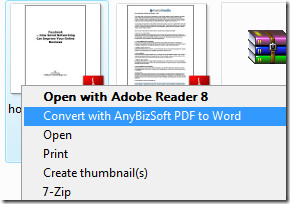 Simply right-click a PDF file and select Convert With AnyBizSoft PDF To Word. It works on Windows XP, Windows Vista, and Windows 7.
Bonus Tip:
Suppose you need to make some changes to a read-only PDF file, this is what you can do. First convert it to Word format using the above mentioned tool, make the required changes, and save it back into PDF format using this tool. It's that easy. Enjoy!