How To Change Default IE Security Restrictions In Windows Server 2008
Windows Server 2008 like any other Microsoft based operating system, comes with the Internet Explorer browser. The default IE security restrictions can be a headache to manage due to the paranoid restrictions. One can get awfully tired of allowing each website and sub domain(s) access to IE when working with these default policies. Moreover, it might appear impossible to download a file (even another browser), as downloading is disabled. In this post we will tell you how to change the IE security configuration to suite your needs.
After installing Server 2008, one may be interested in downloading some important hotfixes, software and other required tools. However, the default Internet Explorer policies ask for access permission for not just the visited website but also sub-domains, related links, banner-ad URLs,etc. For example if one was to visit: www.addictivetips.com, IE will ask for permission regarding not just this domain but all sub-domains related to it. Moreover if another page was to be accessed e.g. www.addictivetips.com/archives then access will have to be granted once more to this link as well as any link associated with it. Come to think of it, if one does install Server 2008 in a corporate environment, the IE security is the last parameter that an administrator will rely on. Such networks are often protected with software and hardware firewalls (e.g. Cisco Pix and ISA). Moreover, if one is using Server 2008 for practice (e.g. evaluation version) then these restrictions are only a hindrance in the process of learning. Either way, the method to change these annoying restrictions is as follows: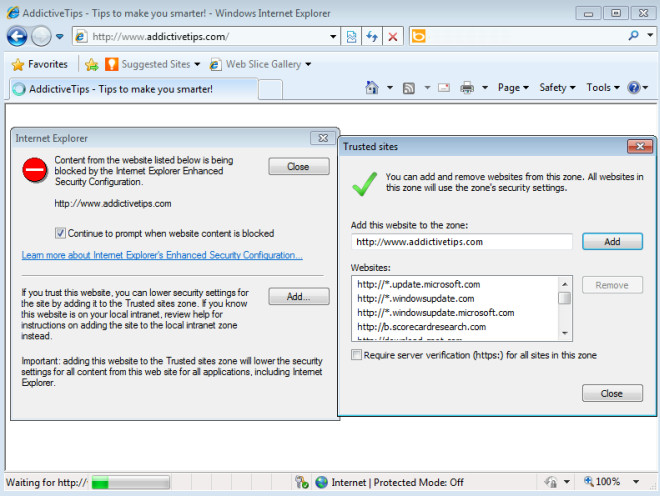 Go to the Start menu and click Server Manager from Administrative Tools.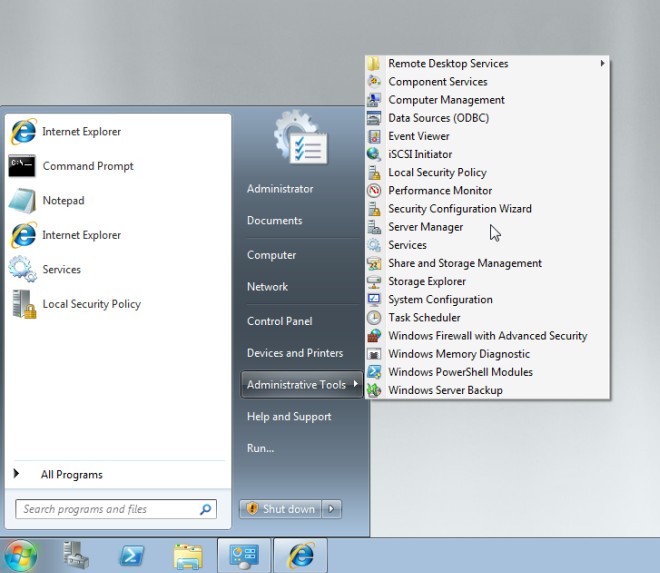 From here, click on Configure IE ESC from the bottom right corner. This will display Internet Explorer settings that you can set according to your liking. For example, the annoying security features can be kept for the Administrator account due to security reasons, while other users can be exempted from this restriction. Many administrators use alternative accounts to run verbose server function to avoid compromising on security of the Server via the Administrator account.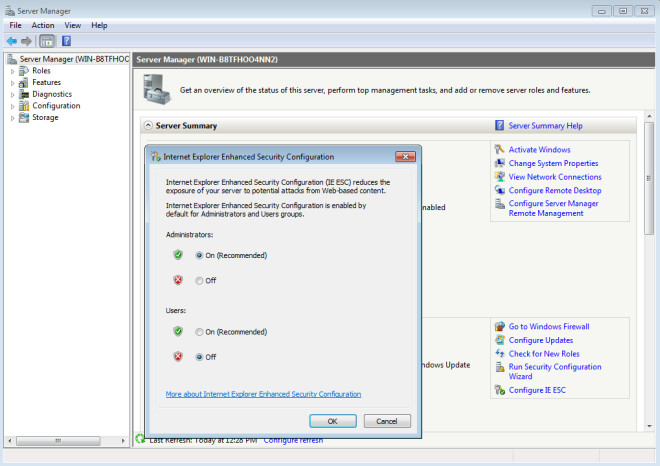 If the security restrictions still seem very tight, it might be worth changing some configurations from Tools-> Internet Options –> Security and Privacy (tabs). For instance, switching from the Trusted Sites option to Internet, will reduce repeated permission during browsing. Likewise, decreasing  the security level in the Privacy tab also relaxes browsing security. Having said that, in a corporate environment, it is only worth changing these settings if you have other protection parameters present. As a security breach on a single server can lead to disastrous effects of data loss/theft, network instability and much worse.