How To Change Your Firefox Into An Email Client
In the last post we covered 2 ways to turn Firefox into windows explorer file manager. But forgot to mention that you can actually convert Firefox into a complete email client too. Instead of using MS Outlook, Mozilla Thunderbird, or Gmail online client, you can now check all of your emails from Firefox by using it as an email client.
To being, download SimpleMail Firefox add-on. Once installation is complete, restart your Firefox browser. Now you will see a Mail icon on the status bar at the bottom far right as shown in the screenshot below.

Clicking this icon will open SimpleMail client in a new tab. Now go to Preferences by clicking the icon as shown in the screenshot below.

This will open up options where in Accounts tab you can set up your email account, it supports multiple email accounts(POP3/IMAP/SMTP). In General tab you can change when to receive an email, and many other options.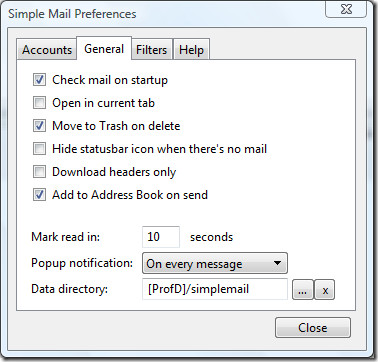 According to SimpleMail the  following features are included in this add-on,
* Accounts
Multiple email accounts
POP3/IMAP/SMTP protocols
Automatic checking on specified timeout
* Address Book
Autocomplete box suggests recipient names/addresses as you start typing them
Groups of contacts
Display Address book in main Simple Mail window
* Folders
Create custom folders
Drag-n-drop folders and messages into folders
Use filters to automatically sort incoming messages into folders
* New message composition
WYSIWYG editor. Customize font/color of your message
Smiles. Use predefined smiles or easily add your own
URLs are automatically converted to hyperlinks as you type them
* Appearance
Right-click on toolbar to choose "icons/text/icons and text" mode
Additional columns for folders can be turned on (unread/total/size)
Switch window layout by clicking on an icon in the top-right corner
* Other
Store your mailbox on a Flash drive
Sort messages by clicking on column headers
It is a great add-on that turns your Firefox browser into a complete email client. Enjoy!