How To Close A Stuck Program In Windows 7,Vista,XP
Do you have one or two unresponsive programs running but you don't know how to close them? An unresponsive program can be any program on your computer that might get freeze up and does not respond to your actions, this unresponsiveness of a program can occur due to many reasons, but the main reasons include low virtual memory, low RAM or generic windows errors. Many steps could be taken to troubleshoot an unresponsive program but the easiest way is through Windows Task Manager.
Press Ctrl + Shift + Esc altogether, when you're finished pressing them, a Windows Task Manager window will open up.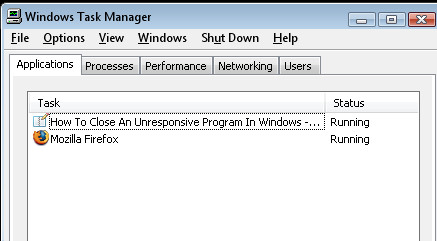 Select the Applications tab.

Click on the application's name you are having trouble with,and want to close it down, at the bottom of the Task Manager window click the End Task button.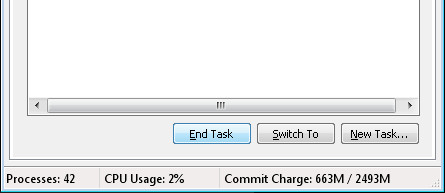 This action may close the program instantly but in some situations you will get a message stating that the program is not responding, on the given options click on the End now button.  In this way Windows sometimes may become unstable and other running programs may slow down, but Windows usually recover itself by restarting the main Explorer.exe process.
Note: If the Program is not listed in Application tab, then go to Processes tab and you will find it there. Check the Description next to every process that is running, select the program that you want to end and click End Process.
Voila, you are done with the unresponsive program!