How To Convert MS PowerPoint Presentation(PPT) Into Flash Format For Free
iSpring Converter is a free PowerPoint add-on that lets you save your presentation to flash format instantly. Additional options include the ability to add Flash videos inside presentations. The advantage of PowerPoint in flash format that it can be played in any operating system.
Note: If you are looking to create a presentation slideshow for the purpose of uploading it to YouTube, please check this post.
Once you have installed this tool, run MS PowerPoint and you will find a new tab named 'iSpring Free'.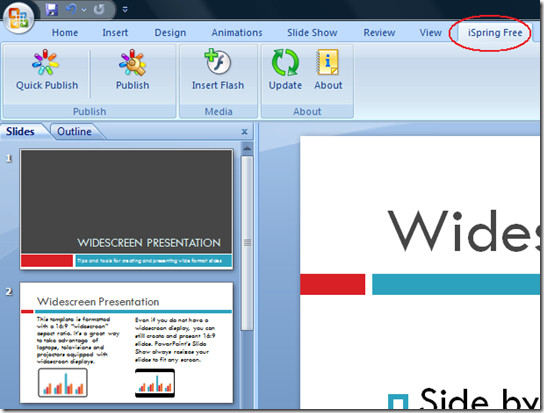 Once your presentation is ready, click Publish and you will be shown Publishing options.
 Click the image above to enlarge.
You can give this presentation a name, select the destination where you would like to save it and select the number of slides you want to include. You also have options such as generating HTML, selecting slide playback duration, etc. Once everything is ready click Publish.
Click here to view the MS PowerPoint presentation in flash format that I created using this add-on. Enjoy!