How To Convert Zip, Rar, And Other Archives To Various Formats
If you downloaded a file that came in the unknown archive format, the best way is to first convert it into a known archive format and then extract the contents. Many archive tools such as WinRar and 7Zip support conversions into other archive formats, but they lack support of many other popular formats.
ArcConvert is a free portable tool for Windows that allows you to convert many different types of archives to known formats. It can convert the following archives,
7-ZIP, LZH, CAB, ZIP, ARJ, ACE, RAR, TAR, TGZ, GZ, Z, BZ2, YZ1, YZ2, GCA, BEL, RPM, DEB, BH, Noa32, HKI, PAQAR, SQX, HA, ZOO, UHARC, LFB, ZLIB, UCL, IMP, RS, SPL, APK, Arc, DZ, MSI, ALZ, PMA, PAQ7, CHM, UDA, PAQ8, Cryptonite, ISO, LZOP, BMA, ZIP AES (128/192/256), Nanozip Alpha, XZ
into the following ones,
ZIP, 7-ZIP, CAB, LHA, TAR, TGZ, BZ2, YZ1, BGA, RAR, ACE, NOA32, HKI, PAQAR, UHARC, YZ2, DZ, HA, XZ.
Just extract the contents and hit arc_convert.exe to start the program. Now click Open Archive and select the archive file that you want to convert. Once you have selected the file, click Check It to check whether this format is supported or not. Now select the priority and the format to which you want to convert. When you are done, hit Convert.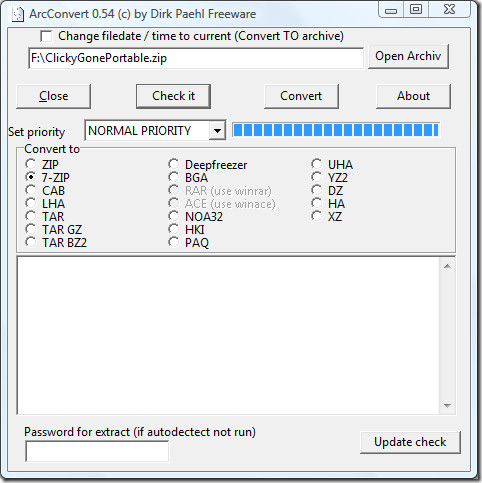 If the converted archive is smaller in size, it will notify you and ask if you want to delete the original archive.
Note: I recommend that you do not delete the original archive unless you have tested the newer archive to be working fine.

You will find two other options, one is to change the file data/time to current date/time, while the second option allows you to enter the password if the archive is password protected. It weights only 5Mb which makes it easier to carry around in USB flash drive. It works on all versions of Windows. Enjoy!