How To Copy & Paste Layers Between PSD Files via Keyboard Shortcuts
You can copy layers between PSD files by dragging & dropping them. To do so, you must drag a layer from one file to the other. It isn't the smoothest or the most convenient way to copy layers. Photoshop has a tabbed interface and you can separate one file from the rest. This makes it much easier to drag & drop layers or groups but it still isn't the same as a simple copy/paste function. The copy/paste function in Photoshop doesn't work for entire layers. Instead, you can copy the contents of a layer from one file to the other. Copio is a set of simple scripts that allow you to copy/paste layers between PSD files via keyboard shortcuts. These scripts work only in Photoshop CC and not in Photoshop CS.
Download Copio from the link at the end of this post. We should warn you now that you need to enter your email address in order to get the download link. There is unfortunately no way around this. These scripts work in both Windows and macOS.
Once you've downloaded Copio, extract it. Inside, there should be a folder called 'Copio'. Copy this folder to the following location in the Photoshop directory;
…/Presets/Scripts
You might need administrative rights to do so.
Once you've copied the folder to the Photoshop directory, you need to configure the keyboard shortcuts that will run these scripts. To do so, open Photoshop. Go to File>Keyboard Shortcuts.
In the Keyboard Shortcuts and Menus window, go to the Keyboard Shortcuts tab. Expand the 'File' section and scroll through it until you see 'Scripts'. Look for the scripts you just copied. They will appear here and start with 'Copio'.
Click a script and record the keyboard shortcut for it. You probably do not want to override any of the default keyboard shortcuts in Photoshop so use the following which do not clash with them;
Copy: Ctrl+Shift+Q
Paste: Ctrl+Shift+P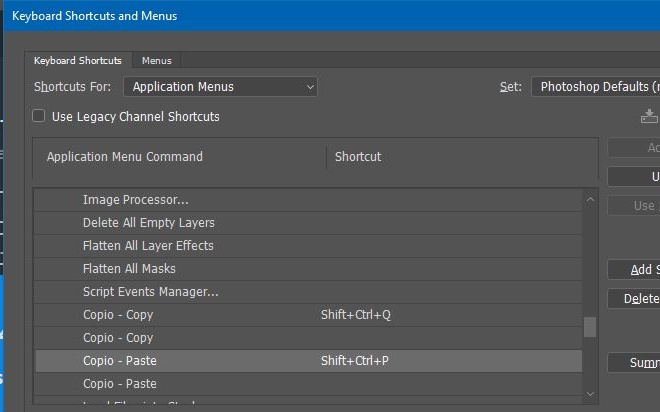 That's all it takes to set it up. You can start using it right away.