How To Disable Windows Security Alerts Using Windows Security Center
Did you ever get annoyed when Windows Security Center keeps popping up alerts telling you that User Account has been disabled or Windows needs to be updated? If you are like me who gets annoyed like hell, all you have to do is remove both the icon and alert, which is quite easy and requires a few clicks.
If Windows Security Alerts is enabled then you will see a tray icon as shown in the screenshot below,

Open Windows Security Center by doubling clicking this icon. Once Windows Security Center is open click on Change The Way Security Center Alerts Me on the left side-bar.\
It will pop-up a small window with a question Do you want to be notified of security issues? with a list of options as shown in the screenshot below.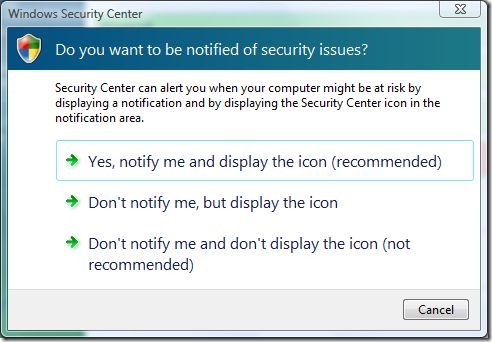 Simply select Don't notify me and don't display the icon, and you are done. Now both alerts and the icon are gone, now you can finally enjoy using Windows. 😉