How To Enable Dynamic Lock In Windows 10
Windows 10 supports multiple options for keeping your PC secure. You have three types of passwords that you can set; alphanumeric, PIN, and picture. If you have a supported device, you can set up Windows Hello and train it to recognize your face. The Creators Update for Windows 10 will introduce a new locking mechanism for your PC; Dynamic Lock. It's meant for users who forget to lock their device and it works with paired Bluetooth devices. When a paired Bluetooth device, specifically a phone, is no longer nearby, Windows locks itself after 30 seconds. Here's how to enable Dynamic Lock in Windows 10.
You need to first pair your phone with Windows 10 via Bluetooth. To pair a Bluetooth device, open the Settings app. Go to the Devices group of settings and add the device from the Bluetooth tab.
Once you've paired your phone you need to enable Dynamic Lock. Open the Settings app and go to the Account group of settings. Select Sign in Options from the left column. Scroll past the usual sign in options; PIN, password, and picture password, to Dynamic lock.
Enable the 'Allow Windows to detect when you're away and automatically lock the device' option.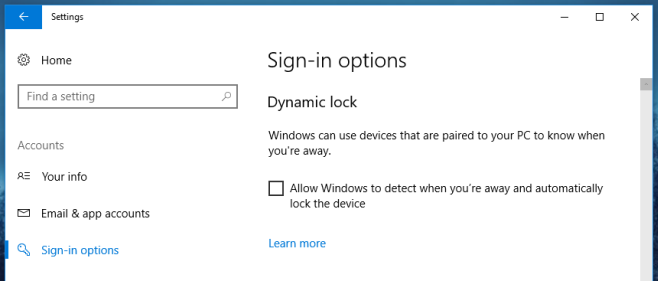 Once you've enabled Dynamic Lock in Windows 10, it will automatically detect which of your paired devices is a phone. You won't have to manually identify the device yourself. When you leave your PC, with your phone in your pocket/hand, Windows 10 will be locked automatically after 30 seconds. There is at present no option to lock your desktop immediately after you walk away.
There are apps like this available for both Windows and macOS. They work via Bluetooth and your phone. When you leave your desktop's proximity, it is locked. Apps like this support an automatic unlock feature as well.
Dynamic lock in Windows 10 works with all phones; you're not restricted to just using a Windows phone. This feature is only partially live in Windows 10 Insider Build 15031. The feature can be turned on but the Settings app crashes when you try to pair the Bluetooth device.