How To Exclude Files & Folders From Cortana Search On Windows 10
Cortana can search for files in Windows 10. It is more or less the same Windows Search feature that you've used in older versions of the operating system but with some improvements and a few UI based filter options. Cortana gives you a little more to work with than Windows search did. For example, if you're searching for an image, it will show you a nice thumbnail preview of all matches so that it's easier for you to pick out what you need. At present, Cortana's search isn't the greatest. We say it's like Windows search but the experience is certainly diminished often giving poor and irrelevant results when you search for files. If you find Cortana is repeatedly listing files that you would prefer never show up in search you can disable it from Windows file and folder indexing and hide it from Cortana. Here's how.
Open Control Panel and go to Indexing Options. Click the 'Modify' button and in the 'Indexed Locations' window, navigate to the folder you want to exclude from Cortana search. Uncheck the location and click 'Ok'. You cannot choose individual files to exclude from search so if there is a single file that you're looking to exclude, add it to a folder and select it.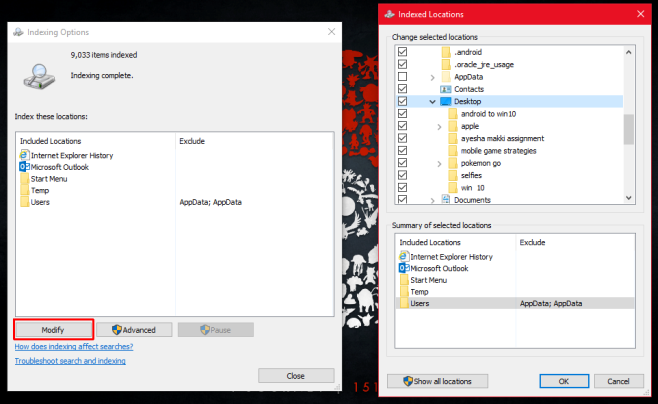 Return to the Indexing Options window and click the 'Advanced' option. You will need Administrative access to proceed beyond this point and will be asked to enter your administrative password. On the 'Index Settings' tab, click the 'Rebuild' button. This will rebuild the Windows search index. It will take some time for the index to rebuild. You should log out and log in again.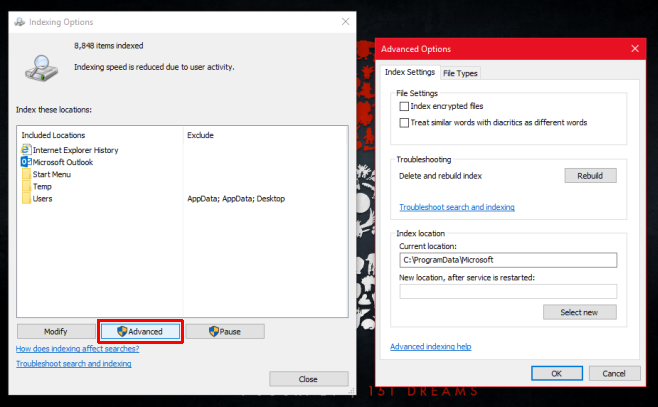 Cortana will no longer search and show files from the folders you've excluded and it will not show up in Windows search either. Needless to say it is up to you to keep track of the files and folders you've excluded.