How To Extract Audio From Movies And Video Files Easily
Have you ever watched a movie with a fantastic piece of soundtrack? Like I did, when I watched "Into the Wild", its soundtrack was awesome, Wouldn't it be great if we could make an MP3 file to play on our computer? As long as we don't infringe on copyrighted material, there's a great selection of audio extraction tools that we can use to generate digital audio files from video, for this purpose, AoA Audio Extractor is a powerful tool for video to audio file conversion.
AoA Audio Extractor is an easy-to-use audio extraction tool that supports the various formats  including, avi, mpg, dat(VCD), flv(Flash Video), mp4(Windows Media File), 3gp, asf, and wmv.
How To Add Files
Click on the Add Files button and navigate to the video file you want by using AoA Audio Extractor's built-in file browser.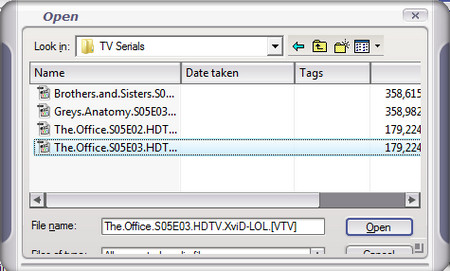 If you want to add multiple files then you can use Windows keyboard shortcuts (CTRL+A , Shift+cursor up/down)
How To Configure
In the output options section, choose an audio format that you want to convert to. Keep to the default MP3 format if you're not sure what to do. Next, set the audio sample rate to 44100 in order for the files to be as compatible as possible with hardware and CD authoring software which sometimes has problems with anything higher than 44100.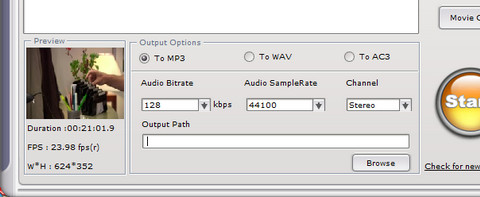 How To Extract
Set an output folder to save the audio files to by clicking on the Browse button. Click Start to begin the extraction process.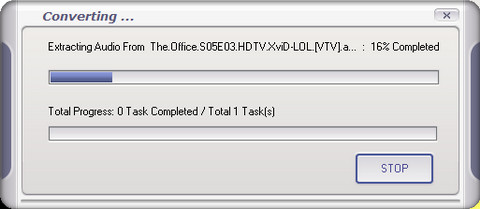 Alternate Software
Alternatively, you can use Pazera Free Audio Extractor, which is a free applications that lets you extract audio tracks from video files without loss of sound quality. Files can be converted in to MP3, AAC, AC3, WMA, FLAC, OGG or WAV format as well. It supports almost all the major video formats like AVI, FLV, MP4, MPG, MOV, RM, 3GP, WMV, VOB and a few more.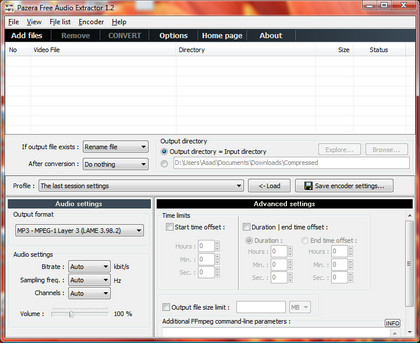 To extract the audio, all you need to do is just drag & drop your video file into main window, select proper profile from list, and click the CONVERT button. If the audio quality is poor, increase the audio bitrates and it should do just fine.