How To Free Up Disk Space With Storage Sense In Windows 10
Internal hard disks are large enough that the average user won't ever run out of space. Movies and the like are usually stored on external drives so that you only have documents or apps taking up space. That said, junk files can still accumulate on your drive over time and end up consuming significant storage space. Windows 10 has a new feature coming in the Creators Update called Storage Sense that proactively deletes junk files. Storage Sense in Windows 10 deletes temporary files saved by apps and it removes all items from the Recycle Bin that have been there for more than 30 days. Here's how it works.
Storage Sense in Windows 10 is not enabled by default. To enable it, open the Settings app and go to the System group of settings. Select 'Storage' and below the Local Storage section, you will see a switch for 'Storage Sense'. Turn it on to enable Storage Sense.
If you want Storage Sense to delete temporary files but not items in the Recycle bin, you can customize how the feature frees up space. Click 'Change how we free up space' under the Storage Sense switch.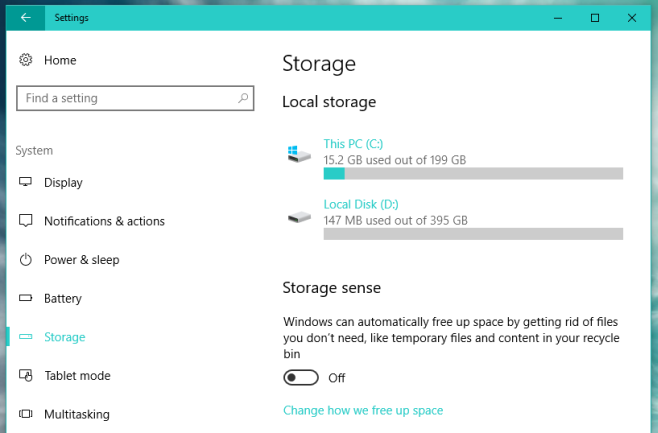 On the next screen, you can enable/disable the deletion of temporary files and files from the Recycle bin. You can also force Windows 10 to run Storage Sense and free up any and all space it can by clicking the 'Clean now' button on this screen.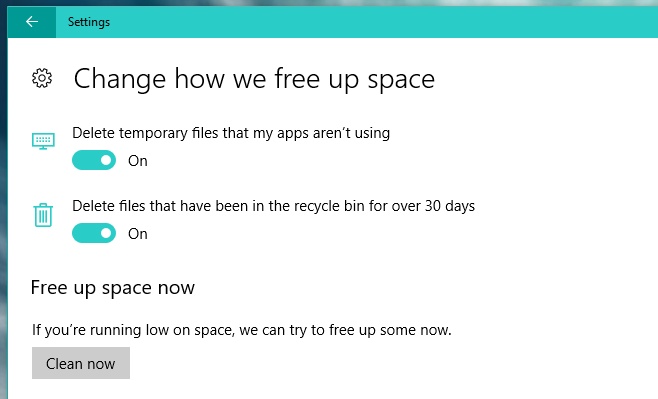 When you click 'Clean Now', Windows 10 looks for temporary files that it can delete and remove them from your system. It also deletes all files older than 30 days from the recycle bin. Needless to say you must have both enabled for the forced clean to remove them.
The good thing about Storage Sense in Windows 10 is that tablet users will love it. You aren't forced to enable it and you can customize it somewhat. It can stand some improvement though e.g. per-app selection for removing temporary files. Some apps might store much needed temporary files while others, like your browser, might store less important files temporarily. The latter can stand to be removed while the former might not.
This feature is only available in the Windows 10 Insider Preview Build 15014 for now. It will be available for stable users with the Creators Update.