How To Manage Document Versions In Word 2010
You might know that Microsoft Word includes the feature of auto-saving which saves your documents automatically after specified intervals of time. Now Word 2010 offers additional feature to manage different versions of documents. It is very easy to compare different auto-saved versions of a document. You may review different versions or even delete/recover previous auto saved versions of a particular document. We will discuss the following two points  in this post.
1. How To Configure the Auto Save settings in Word 2010
2. How To Manage Document Versions in Word 2010
How To Configure Auto Save Settings in Word 2010
The Auto save settings are located in a different place in Word 2010 as compared to the older releases of Microsoft Word, click the Office button and choose Options.

The Word Options dialogue box will be displayed, now choose the Save option from the left side menu and its relevant properties will be shown in the right side main window. In the main window locate and select the option Save AutoRecover Information every minutes, here specify the time interval after which the auto saving event should occur for a document.

How To Manage Document Versions In Word 2010
Once your documents are being saved automatically, Word 2010 will shows all of the available versions of the document. For this purpose go to the Office button and you will be able to see the available document versions under the Versions category section.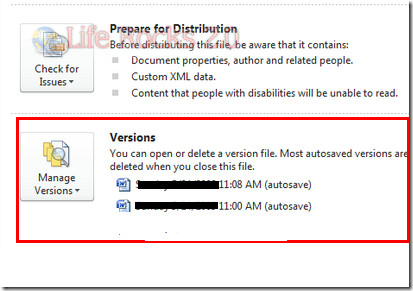 Thats it. Enjoy!