How To Quickly Start & Stop Windows Services Without The Task Manager
Windows and the apps installed on your system run lots of different services in the background. Most of these services are essential to the OS or the app's working and they are best left to do what they are meant for. If however you find you need to monitor, start, and stop a particular service running in Windows frequently you might not want to repeatedly go through the Task Manager to do so. My Windows Service Panel is a free and open source app that lets you select Windows services you want to monitor and stop/start them from a dedicated panel.
Install My Windows Service Panel and run it. It will check to see if MY SQL server is running on your system or not but that doesn't have much to do with anything. Click the cog wheel button at the bottom right and you will go to the Select Services Window panel. Here you can see a complete list of services that were running and are still running on your system. To add a service to the main panel for monitoring, turn the switch next to the service's name in the 'Selected' panel On. In the screenshot below, we've decided to monitor Adobe Acrobat Update Service and Apple Mobile Device Service.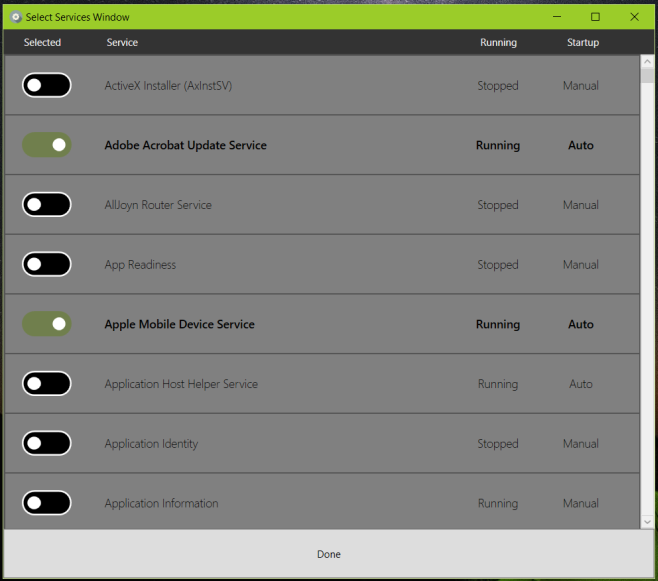 The services you selected for monitoring will now appear in the main panel complete with an On/Off switch, and their current status i.e. Running or Stopped. To turn a service Off, you need only turn the switch next to it Off. The 'Running' status of the service will change to 'Stopped'.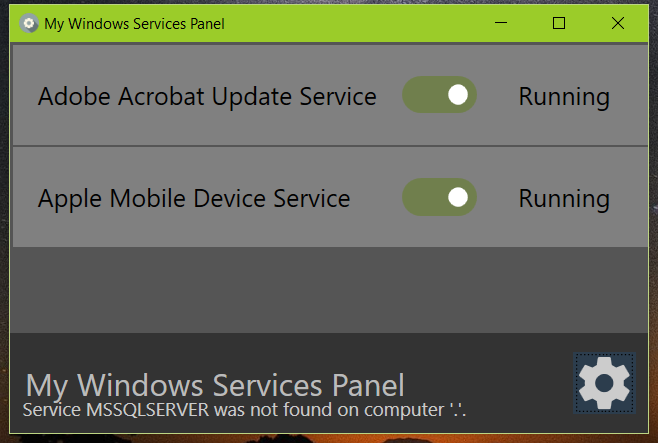 My Windows Service Panel is, as the name implies, a dashboard dedicated entirely to Windows' Services. More importantly, it lets you choose the services it should display so that you don't have to go through long lists of services in the Task Manager simply to know their current status or to turn them On/Off. For anyone testing or troubleshooting an app or the OS, this is pretty handy.
Download My Windows Service Panel