How To Remove All Effects Of A Virus From Your Windows System
If a virus attacks your system, the first thing you will do is to remove the virus with an anti-virus software. But what then? Your system will still likely to remain corrupted. This is because some types of viruses usually tweak the system registry and file systems. If you remove the virus, your system registry and file systems will still remain corrupted. Virus Effect Remover is a free opensource tool which helps you to remove the effect of viruses from the Windows Registry and File System easily. Also it can detect the registry error caused by a virus.
You must have noticed that some viruses disable task manger, registry editor, folder options, etc, you can use this tool to enable them back instantly.
You will find various helpful options to clean your registry and file systems. Click System File Checker to run a scan of your file systems.
Note: Make sure you have made a backup of your Registry before doing anything. In case something goes wrong, you can always restore your backup. To backup your registry click Make Reg BackUp button.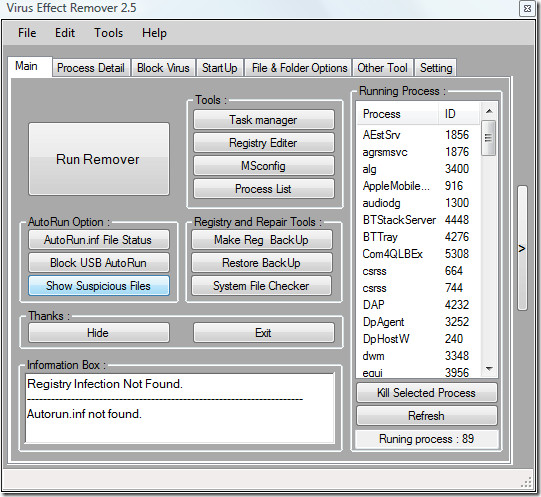 Since it is good to disable the USB Autorun, click Block USB Autorun button to do so. You can always revert back the changes easily by clicking that button again. If you are confused about the functionality of any button, hover your pointer over the button and you can read the details in a simple balloon box. Click Run Remover button to begin removing the infections.
Apart from the main functionality, you can also check the processes running with their details and kill any specific process you find useless, block a specific virus, view all startup programs and remove those which you don't need. All can be done by going to their respective tabs. It requires .Net Framework 2.0 to run. Enjoy!