How To Schedule System Shutdown With Shutdown Agent
Are you in need of a good tool which can shutdown, restart, or logoff your system according to a schedule? If yes, then your search should end now. You can try a free and user-friendly software, Shutdown Agent which lets you schedule the shutdown, restart, suspend, hibernate, and logout events for your computer. It resides in the system tray for easier and faster access. The application offers a miniscule configuration console, containing all the event schedule settings such as Action (Shutdown, Logoff, Restart, Hibernate), Time interval and options to forcibly close all running processes before starting the event, blink icon before execution etc. You can also choose to hide the timer, and enable/disable it from configuration window.
This post has been updated to let you know that Shutdown Agent also supports Windows 8. The article was updated on April 2, 2012.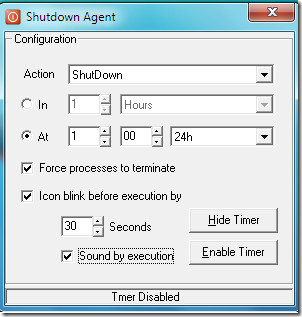 To get started, choose the action you want to perform from the Action drop down menu, you can choose between Shutdown, Restart, Logoff, Suspend, and Hibernate. Choose the time to run this action from either the In or the At options. Check/Uncheck the options Force processes to terminate and Icon blink before execution as per your requirements. You can hide the timer by clicking the Hide Timer button and you can enable the timer by clicking the Enable Timer button.
According to the developer's official site, it is compatible with Microsoft Windows XP, Windows 2000, Windows 2000 Server and Vista, we successfully tested it on both Windows 7  and Windows 8. Enjoy!