How To Schedule Wi-Fi To Turn On Automatically After Turning It Off In Windows 10
You can turn Wi-Fi On/Off on just about any device that lets you connect to the internet. IoT devices don't have a dedicated interface for disabling Wi-Fi but phones and computers do. You might need to turn Wi-Fi off for any number of reasons and you will of course, do so consciously. Turning the Wi-Fi On or Off is, and always has been, something we do manually. There's no scheduling when Wi-Fi will be turned On or Off on a phone or desktop. Windows 10 is breaking away from that. It now lets you automatically turn Wi-Fi back On after a while. You still have to manually turn it Off as per your own need but Windows 10 will remember to turn it on again for you. The feature is only available in the Windows 10 Insider Build 14942 for now.
You can turn Wi-Fi Off from the Settings app and from the Action Center. The option to select when Wi-Fi will automatically turn On again can be accessed from both the Settings app and the Action Center.
Open the Action Center by clicking the Wi-Fi button in the System Tray. Click the Wi-Fi icon to turn it Off. Once Wi-Fi is Off, you will see a new drop-down appear with the Title 'Turn Wi-Fi back on'. The drop-down has four options; manually, 1 hour, 4 hours, and 1 day. If you select 'Manually' from the drop-down, Wi-Fi will remain Off until you turn it On again yourself. All other options in the drop-down will turn Wi-Fi back On when the period expires.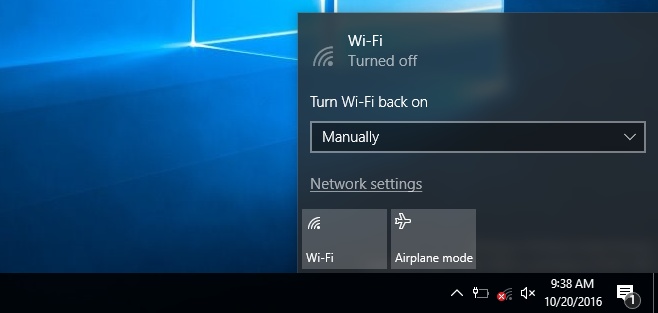 The Wi-Fi settings in the Settings app have a similar interface. You must first turn Wi-Fi off for the 'Turn Wi-Fi back on' drop-down to appear. The drop-down has the same options as the one in the Action Center. You can choose to turn it back On manually, or after 1 hour, 4 hours, or a day.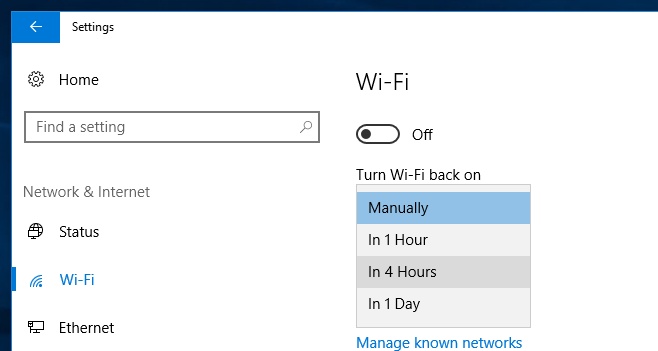 The option isn't bad whether you need it as a developer or as an ordinary person who wants to stop procrastinating long enough to finish a report.
The feature is available in the Insider Builds at present. What would make it exceptionally more useful is if users could schedule when Wi-Fi is turned On and Off. It has the potential to make for a good parental control tool.