How To Solve Windows 7, Vista, XP Freeze Problem With AntiFreeze
Does your Windows XP, Vista, or 7 keeps getting stuck all the time? It usually happens when the multiple programs are running and they take excessive memory. AntiFreeze is an emergency task manager that provides you the last resort to save your computer. When your windows becomes unresponsive, simply run this tool and kill all programs that are taking excessive memory.

This tool comes handy when all programs have stopped responding(including your Windows Task Manager) except your mouse. This tool will only work when your system becomes unresponsive due to software or memory issues, if your system has become unresponsive due to hardware related issues then it won't work.
When your system hangs up, press ALT + CTRL + WIN + HOME to activate emergency task manager.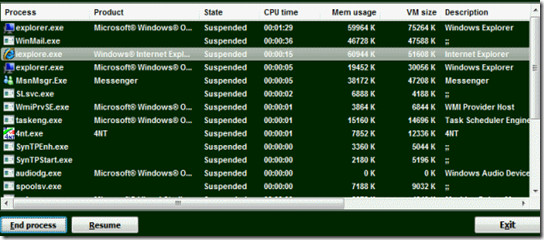 Now select all programs that are taking excessive memory and are causing your system to crash or become unresponsive and click End Process button. That's it, and you will see your system back on it's feet in a few moment. It basically works with all version of Windows. Enjoy!