How To Tweak And Optimize Vista With Ultimate Windows Tweaker
There are thousands of hidden or difficult-to-access options in Windows Vista that tweaks your operating system to your need. There are hundreds of vista tweak UI tools that help you find such options, but nothing comes close to the software I tested today. Ultimate Windows Tweaker is a powerful freeware Tweak UI utility through which you can tweak and optimize your Windows Vista instantly.
Just download and run the program(no installation required) and you will see the personalization window where you can perform basic tweaking.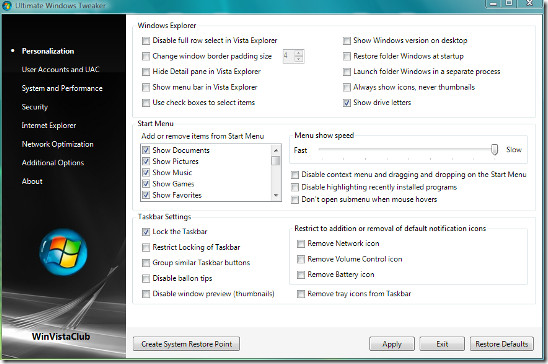 You also have options to tweak or optimize User Accounts settings, System and Performance settings, Security settings, IE settings, Network Optimization settings, or you can change some additional options. All these can be selected from the left sidebar. It however misses some options such as CPU and RAM customization but is still useful for some basic customization.
The interface of this utility is the easiest I have come across and works in both 32 and 64 bit versions of Vista. Once you change the settings, click Apply and restart your computer. In case of some problem occurs you can always restore to original settings by clicking the Restore Default button. Enjoy!
Note: Please make a system restore point before making any change to the settings. The button for making a restore point is also given inside this utility.