How To Upload Multiple Videos To YouTube Easily
Do you want to upload multiple videos to YouTube quickly in the most easiest way? You can put up to 100 videos to be uploaded to YouTube with a single click. YouTube does not allow this, and only allows you to upload up to 10 videos only, and for most people it is difficult task.
FireUploader(also called Universal Uploader) is an add-on for Firefox that lets you upload multiple files to your favorite websites, among them is YouTube. Once you have installed the plugin, click on the FireUploader logo on the status bar(see screenshot), once the pop-up box displays select YouTube from the list of sites, and click Manage Accounts.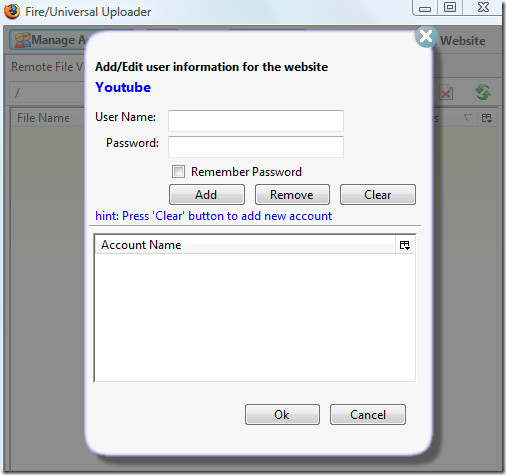 Now enter your YouTube username and password and click Add, once you have done adding your account, click OK. It will now sign-in and show you a list of videos you have uploaded to YouTube, you can manage your list here. You can also see a short details of every video you have uploaded to YouTube such as date/time and category.
To add multiple videos to YouTube select as many videos you want and drag them to the Remote File View box(see screenshot below).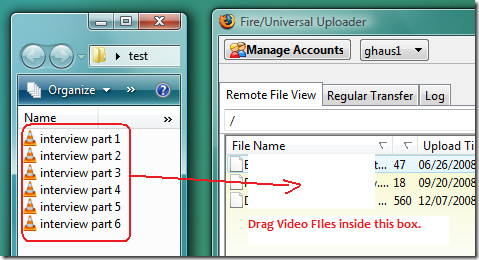 Now it will ask for the tags, category and description that will be assigned to all the video files you have selected to be uploaded. Enter all the details and click OK.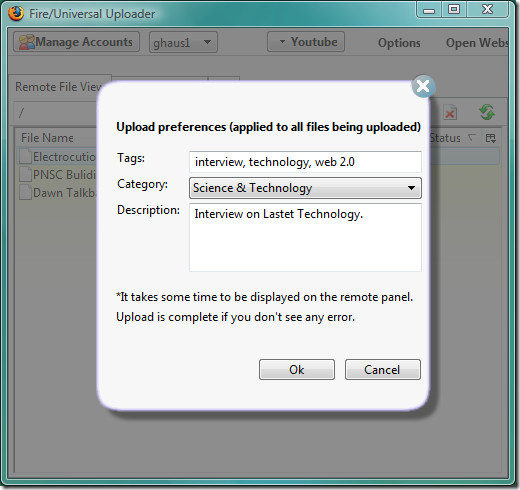 It will now show you the progress of each file under Regular Transfer tab(check screenshot).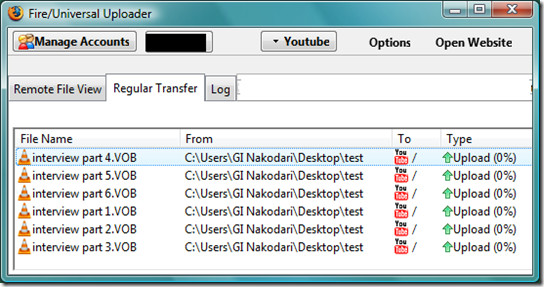 That's it. Now enjoy while your videos are being uploaded automatically to YouTube. 😉
PS…. Don't  forget to share this tip with your friends.