Hyperdesktop: Upload Images & Screenshots To Imgur From System Tray
Uploading an image is often required to prove your point, for instance, on a forum. Providing an image with your statement allows you to convey your message in a better way, and it makes it easier for the reader to understand what you are trying to say. So, it is better for both the author and the reader to communicate when there are images involved. However, including images require you to first upload them, and a lot of websites and forums don't allow you to directly upload images on their servers. You have to upload the desired photo onto a hosting service and then provide its link along with your text. Websites such as 9Gag, Reddit and Digg don't host the images posted by users on their own servers. That's why most users upload images to online image hosting websites, such as Imgur.com, Minus, ImageShack.us etc. Imgur is an image hosting & sharing website that offers both account-based, as well as anonymous image uploading services. Today, we have a tool for you called Hyperdesktop that allows you to quickly upload images to Imgur and create a URL, allowing you to share it across the internet with other people.
Other than being an uploading tool for Imgur, it also allows you to take screenshots and perform simple editing functions on them. You can capture the complete screen or a selected region of your screen. Once captured, the built-in image editor allows you to Insert Text, and Draw on the image using a Pen. The Drawing and Text can be added to the screenshot in several colors, and sizes.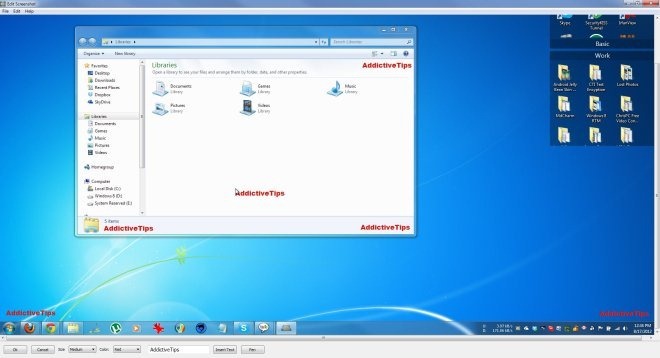 After installation, the tool can be accessed from the system tray. Right click its icon to reveal options to Open Window, Take Selective Screenshot (Region) and Take Screenshot (Whole Screen).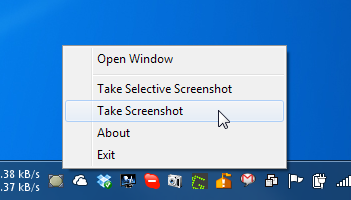 The main window allows you to upload images by just dragging and dropping them over the main interface. Moreover, you can capture screenshots using the provided buttons. When a screenshot is uploaded, a URL is generated and displayed in the lower half of the main interface.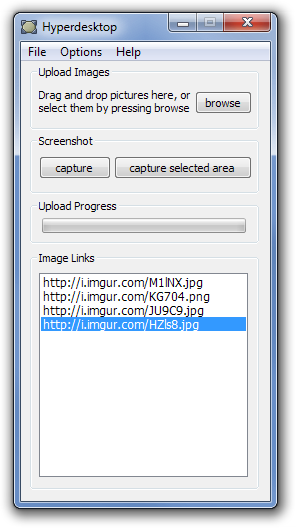 The Preferences dialog box can be accessed by selecting it from the Options menu at the top. It allows you to configure General settings, application Behavior, specify uploading service from Imgur or an FTP server and setup the FTP server, choose hotkeys for taking screenshots, and uninstall the program along with all its settings.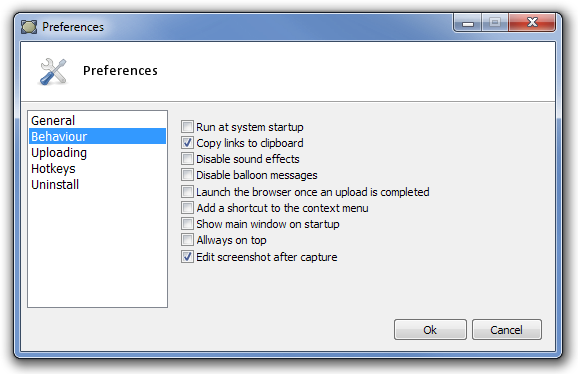 Hyperdesktop works on both 32-bit and 64-bit versions of Windows XP, Windows Vista, Windows 7 and Windows 8.