Image Backup For Windows 8: Create Clone Images Of Your Hard Drive
Regular backup tools only allow you to create backups of files and folders without saving the original folder structure and Master Boot Record information along with them. Even if you select all the files in the folder, you will have to manually place them in their original locations once you decide to restore the package. Image Backups are tools that are designed to backup all information of a disk volume, or the complete hard drive, along with the Master Boot Record, and even the empty space inside a volume. A backup of this kind is helpful in case your hard disk crashes and you cannot afford to manually setup everything in its original form. For instance, if you backup a hard drive volume with complex folder structures, normal backup program will not be able to restore everything in its original form. However, if you create a backup image of the complete volume, everything can be restored in its original state. Image Backup for Windows 8 is a disk-imaging software that allows you to create images of complete volumes and hard disks, and restore them later with all the information intact. Keep reading to find out more about Image Backup for Windows 8.
The application provides you with several backup options, such as Control archive integrity, set image file names automatically in complex archives, change the compression level if the image, enable splitting to avoid archives of massive size making it easier for you to transfer the backup image. Moreover, you can choose to password protect the backup archives, exclude certain file types from the backup and do a lot more.
Before you can download the application, you will need to register on the website. Click the Download Image Backup for Windows 8 for free button, enter the required details, and click Submit. You will receive the download link, a Product Key, and a Serial Number in the provided Email. The program is of around 107 MB so it might take some time to download on slower connections. Enter the Product Key and Serial Number during the installation.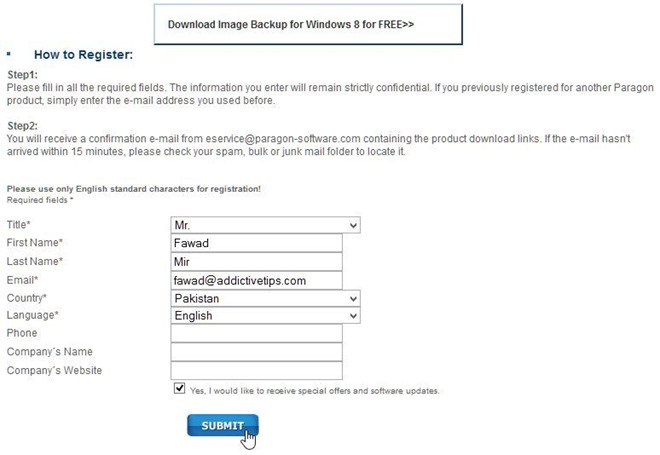 The main interface of the application has Backup and Restore option in the Backup & Recovery tab, while Transfer Files and Burn Recovery Media feature are available in the Tools tab, accessible from the left side.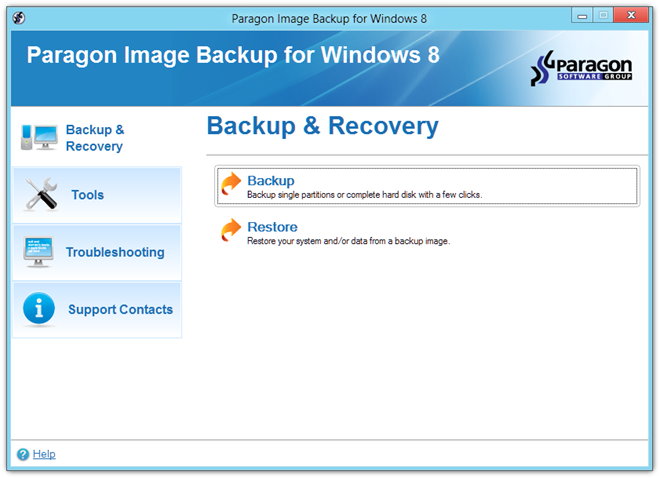 You can select any connected drive to create an image of. Extended options allow you to control the archive integrity, set image file names automatically, enable image splitting for large archives, apply password protection, exclude specific file types from the backup, choose a compression level etc. The destination can be any local or network drive, a physical partition or CD, DVD or BD.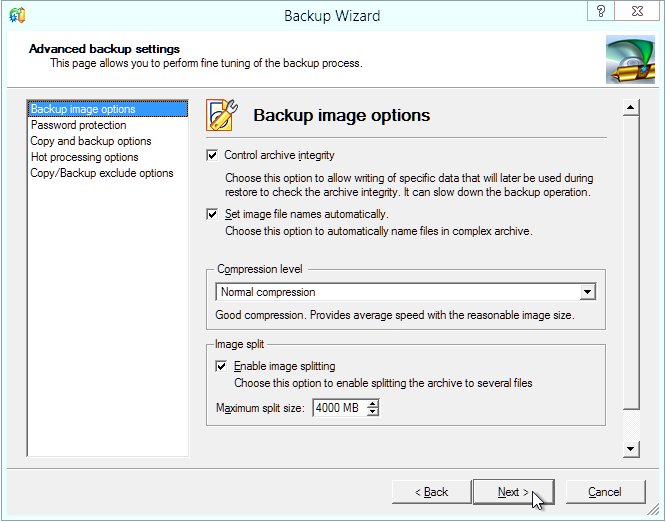 A report is displayed just before the backup process is started with information related to the objects to archive, their size, compression level and all the other settings selected previously. Click Next to start the backup process.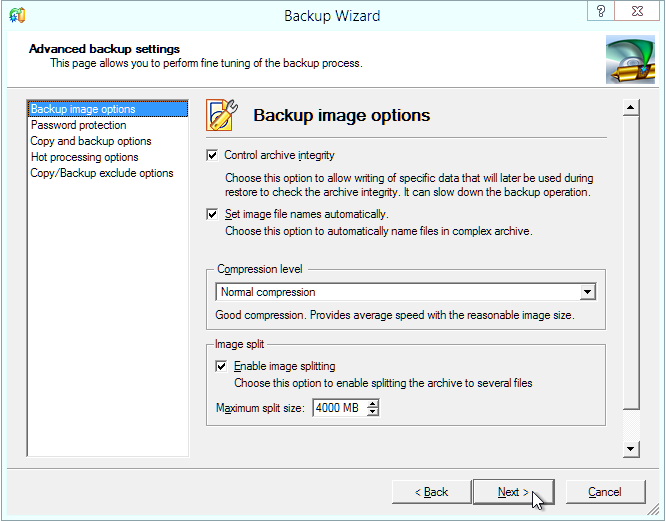 Image Backup For Windows 8 works on both 32-bit and 64-bit versions of Windows 8.
Download Image Backup For Windows 8