ImBatch: Create And Save Batch Image Resizing & Renaming Tasks
If you have got multiple photos at your disposal and you want to resize them to a specific size, then it would be downright foolish to resize each image one by one.  Alternatively, you can try image resizers, specifically designed to perform the said task in batch. Last year, we covered a batch image converter named Photo Magician, which could be used to apply multiple predefined configuration profiles, based on resolution and device, to the image conversion process. Even though quite useful, the application was limited in the sense that you could not save custom configuration profiles. Well, i found this great new software, which might sort this out. Labelled as ImBatch – it's a batch image resizing and renaming application that lets you create and save multiple conversion tasks. You can define the Width, Height, DPI, File Name, File Type, Folder etc. of a conversion task, and save it to use it later on another batch of images. ImBatch can handle a massive number of image formats such has BMP, PNG, RLE, TIF, TIFF, GIF, JPEG etc.
There is little to talk about its cosmetics – the application has a dark skinned UI and overall looks elegant. The interface has Run batch image process, Save tasks to file and Load tasks to file buttons at the top left side, while Add new images, Remove selected images and Remove all images buttons below it. The Add Task, Delete Selected Task and Remove All Tasks buttons are available at the right side.
To add images for conversion, just drag and drop them over the main interface of ImBatch.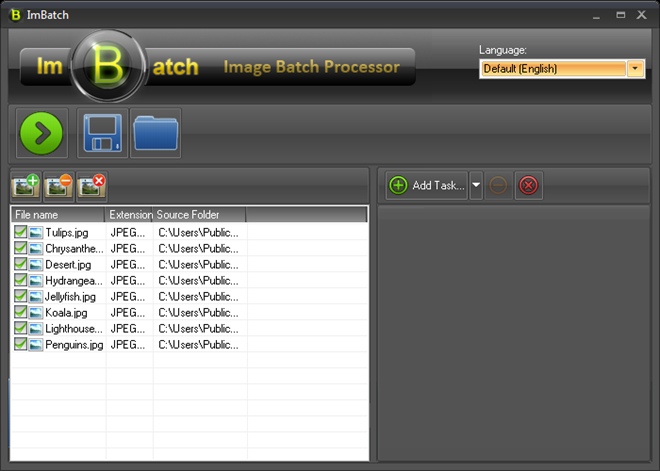 To add a task, click Add Task button and choose Resize or Save as task from the drop down menu. The application allows you to run multiple tasks at a time on one batch of images. Resize allows you to adjust Width, Height, DPI and Filter of Images, while Save as allows you to choose the post-process File Name, File Type and Output Folder. Once all settings are configured, click Save Task to save the current task settings. You can later use these settings on another batch of images by loading them from Load Task.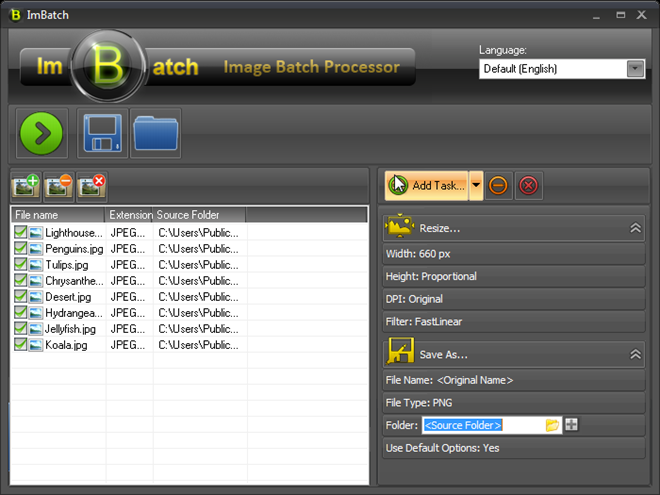 ImBatch is an excellent tool that contains sufficient settings and options, and saving preconfiqured tasks provides an added advantage. The application works on Windows XP, Windows Vista, Windows 7 and Windows 8. Both 32-bit and 64-bti operating systems are supported.