IMGDissolver: Cross-Platform Slideshow Creation Tool With Transitions & Filters
To avoid the complexity of hard to understand applications, most of the people avoid creating professional slideshows by themselves, and mostly hire others to do the job for them. However, contrary to the common belief that professional looking slideshows cannot be created easily, there are a ton of free and easy to use applications that allow you to make slideshows in just a few steps. Previously, we have covered some very useful tools for creating slideshows, such as, PhotoStage for creating professional slideshows with any media file and the default Windows application called Windows DVD Maker available in Windows Vista and Windows 7. All these applications are limited to Windows, but if you want a cross platform application for creating slideshows, try IMGDissolver. It is an easy to use open source application for Windows and Linux operating systems that can be used for creating slideshows, DIVX and DVD of your photos and videos.
The application allows you to create slideshows of images and videos using several transition effects, applying filters and specifying transition settings. It also lets you apply audio tracks as background music for your slideshows.
The interface has Main, Summary, Music, Settings, Audio Tools and Video Tools tabs available at the top. By default, Main tab is selected, allowing you to add images, preview them and modify each image separately. You can also change the Brightness, Contrast, Saturation, Gamma etc, and apply different effects, such as Emboss, Sepia, Blur, Rectangles, Rotation etc.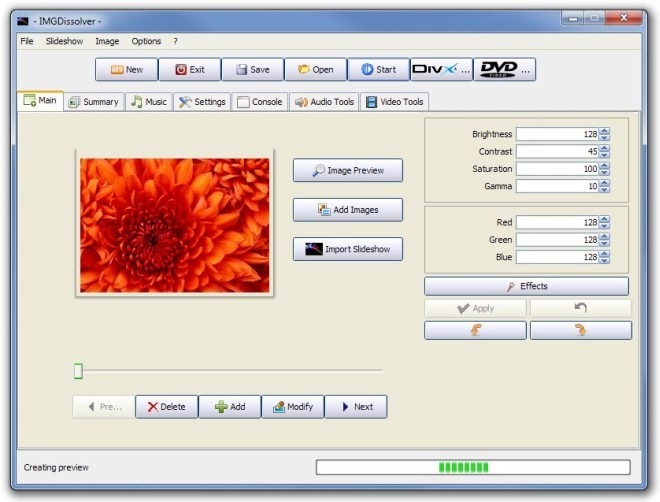 The Summary tab lets you add new images to the list, move them up & down, and apply individual effects to each image.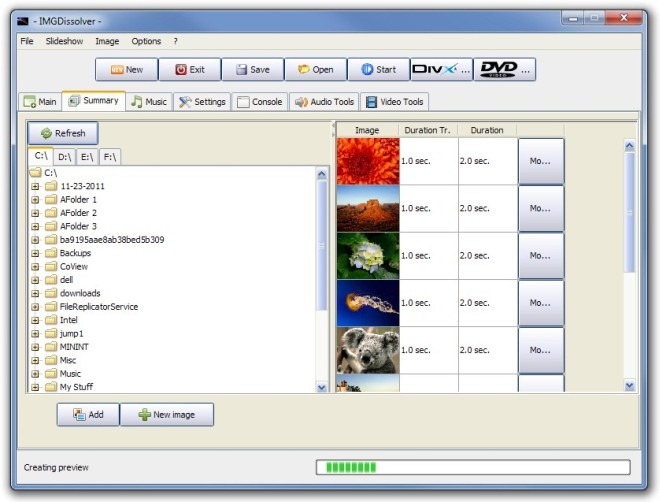 The Settings tab lets you change the Transition style from Pixel, Blinds, Simple Door, Scroll, Dissolve, Mosaic etc., increase and decrease the transition and image duration, apply a filter and choose a background color.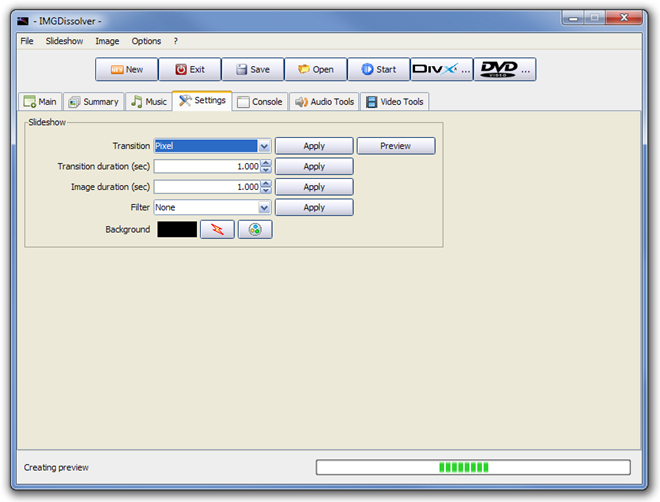 The Audio Tools tab lest you select an audio track to be played in the background of the slideshow, while the Video Tools tab allows you to input a video file, cut a selected portion from it, convert it or just extract its audio stream.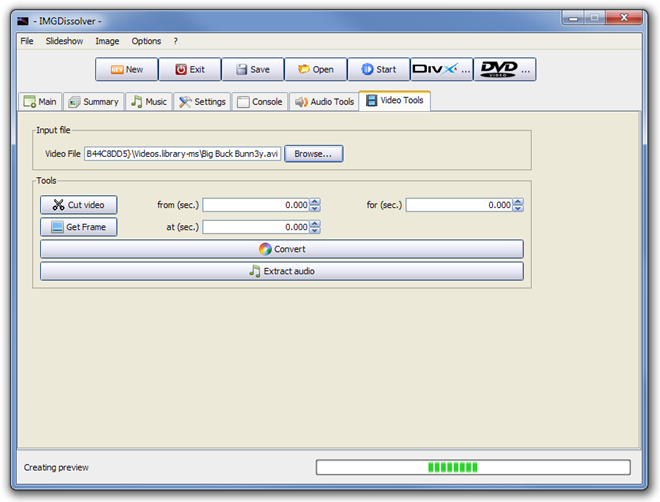 IMGDIssolver allows you to save it in slideshow, DIVX and DVD formats.
The list of features according to the developer are as follows:
Easy slideshow creation, with background music
Export slideshow into DIVX or DVD
Support for captions (top, center, bottom), with many fonts available
Support for many video formats
Multilanguage (English, Spanish, Italian, Greek)
Capability of concatenate mp3 files, merge mp3 files, record voice into an mp3 file
Video tools: capability of grabbing one image from a video, convert a video into an other format, cut a video
Effects like gray-scale and sepia
Many transition effects available
IMGDissolver is a cross platform application and works on Windows XP, Windows Vista, Windows 7 and Linux operating systems.