Immersive Explorer: Metro-Style Alternative To Windows Explorer
Although the new Metro User Interface (introduced through Windows 8) didn't have a love-at-first-sight experience with the loyal users, its fan following is increasing day by day. People have started to realize that the new interface may be different than anything Microsoft has ever incorporated in earlier version of Windows yet these changes are for the better keeping in view user-friendliness, touch-friendly interface and an organized, vibrant layout of resources. Immersive explorer is a metro-style navigator serving as alternative to Windows Explorer. The aim is to focus more on the content rather than opening multiple windows and switching from one to the other. Images can be viewed and zoomed easily using this application with basic file management features appearing at the bottom. It is not in any way a replacement of Windows Shell and doesn't require any installation granting immediate access to the attractive interface without admin rights.
The application does not require any installation, and instead executes smoothly giving you the Metro UI feel. All options are organized into three categories, browse, view and edit specific to the folder type. Easy navigation buttons at the top left corner encourages you to trace your activity back while the handy My Computer button allows you to reach home with just a click. You can minimize or maximize the explorer as per your requirement while the time is displayed at the top right corner for ease of view.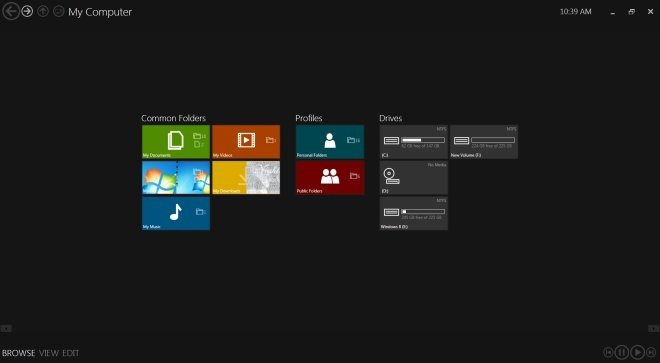 Right click any entry to select the relevant option and the action comes into effect. For instance you can access File Properties by first selecting a file, and clicking Edit >> Properties.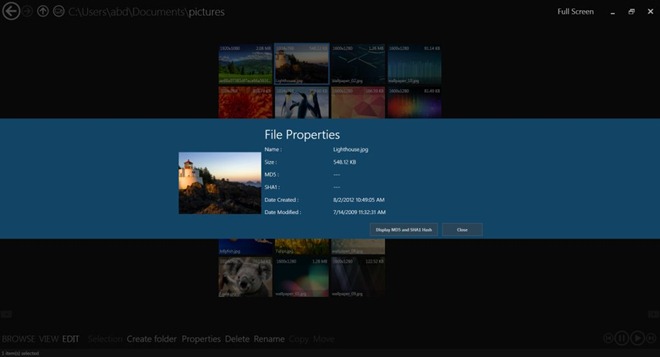 Similarly, new folder can be created or a file can be copied or moved to a specific location by accessing the Edit menu. Notice the responsive and user-friendly interface. Enter the relevant name to create a new folder. Moreover, a folder containing images can be instantly recognized due to the animated slideshow tile.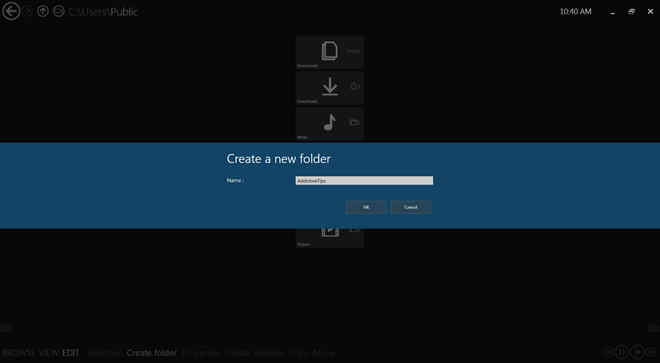 To manage files, right click any file and it will show you the file-related information including the resolution, number of items (files inside) and the size. The Edit features can then be applied effectively.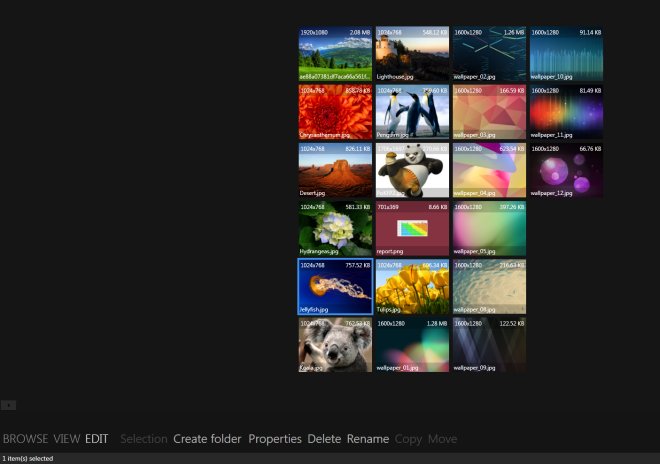 All in all, Immersive Explorer is a nice way to give a fresh look to your explorer that saves your time for the better. We tested this enhancement utility on Windows 7, 64-bit edition. It supports Windows XP, Windows Vista, Windows 7 and Windows 8. Remember, this app is in its development stage, and although you can benefit from the features of the present version, there are quite a few improvements (like touchscreen support and performance tweaks to name a few) expected to be made available in the future.