FlowHeater – Import And Export Data Between Different Database Types
FlowHeater is a database transferring application which supports transfer of data to and from many database management systems, such as, MS Access, MYSQL, Oracle Database, ODBC data sources, .Net tables, MS Excel sheets, etc. For example, data from an Oracle database table can be copied to SQL Server database without going through complicated manual data copying procedures. Moreover,  the data can be converted, amended, transformed, manipulated and injected by a definition set. This eliminates the need of going through time consuming and error prone manual import, exports from CSV files and databases. When a Definition set is run, the adapter exports data from a data source and stores it internally. Once the input is complete, the data is transformed.
During the conversion, seven individual transformations are performed on each field. Despite this relatively extensive degree of processing, an astonishingly fast output is achieved. FlowHeater can handle the most diverse conversions of character encoding, which can also be combined in specified ways. A specific  OleDB data source can be integrated into FlowHeater with an adapter. An adapter is a reference to interfaces to the data source and target respectively. The adapter reads, writes the data to and from internal formats.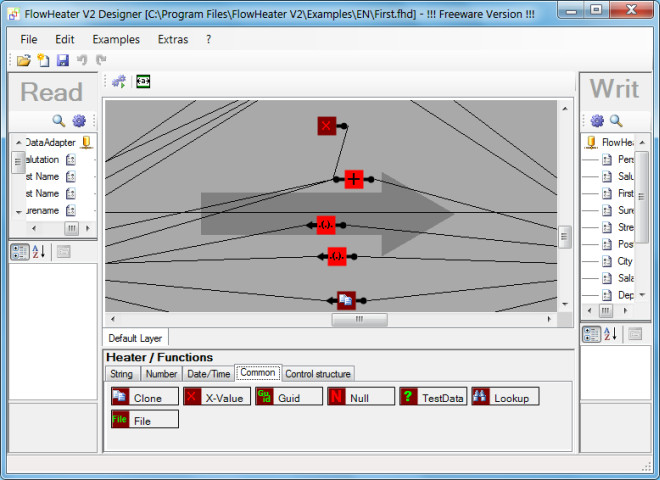 Other than the free version, FlowHeater has two paid versions, namely Designer and Designer+ Batch versions. The former provides extra features like processing of more than 10000 features and stored/saved definition support, whereas, the latter provides batch modules. The Designer+Batch version also has the functionality of the Designer version. The Designer version costs $129 and the Designer+Batch version costs $279 per license. If you require help with configuring any options, refer to the tutorials available from the Examples menu. These include step by step demonstrations of importing CSV files, Flat File export, conversion of text files, batch automation, SQL script and test data generation.
FlowHeater works on Windows XP, Windows Vista and Windows 7.