Incollector: Save And Tag Information For Quicker Access
Tagging is useful for remembering important content, it is a phenomenon which is primarily used to view, manage, and group-up all the relevant content instantly. It happens frequently that you save miscellaneous text, serial numbers, source codes, etc on different locations and in different file formats such as; text editors, Word documents, and so on. If you've been having a hard time to find the information on time, then give Incollector a shot. It brings an ultimate solution of this very problem by providing seamless tagging feature.
It targets those users in particular who have a habit of saving information in different locations and in different file formats, and on looking for these specific files in the future, they end-up with nothing. It provides an easy way for managing different kind of text content with an option of creating tags with each type of information, hence saving a lot of precious time.
The interface is quite snappy and will probably meet everyone's expectations. Usage is pretty simple too, launch the application and start adding as many entries as you want. To bring ease, it has by default 7 commonly used categories; conversation log, note, quote, serial number, source code, web address, word (phrases, etc). Select the desired category from the list to add relevant information to it.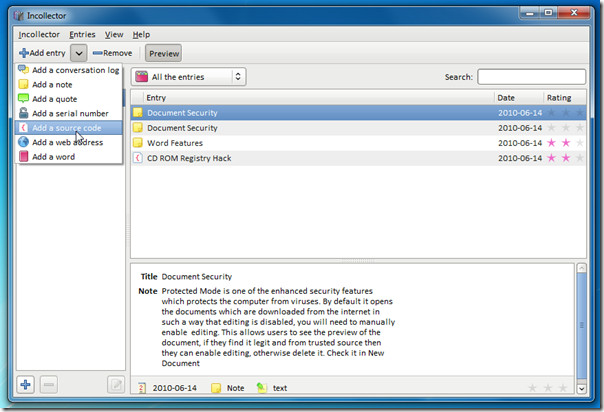 It provides different fields to be filled-in for categorizing content in a nice way. For instance, to add source code, you can properly enter a title and enter language of code. Under Code, you can paste down the main content you need to keep. From Entry info, associate suitable tags with content. Once information is filled, click Add to insert it under selected category.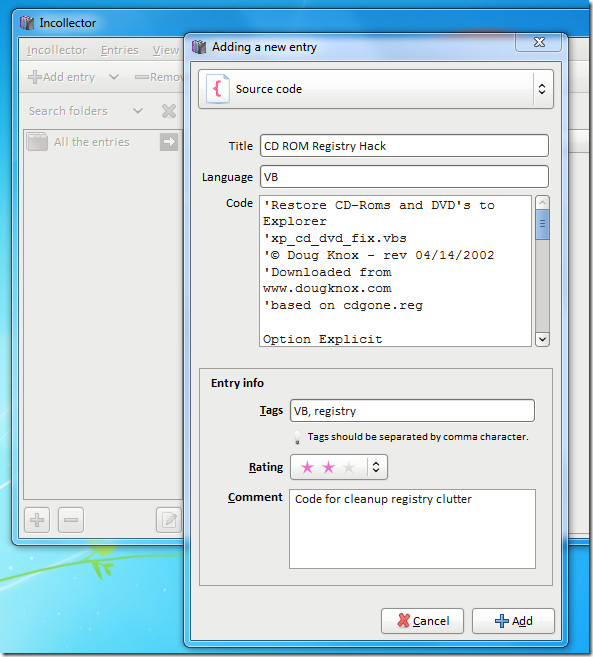 You can start adding innumerable tagged-content. It provides realtime search, so down the line when you will need to search for specific tag, word, text, etc, just enter search keyword in search pane and it will promptly show you the search result.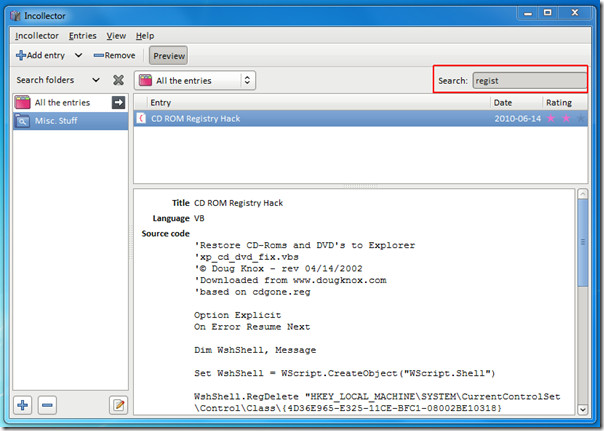 For viewing all the tags, from Search folder drop-down list, select Tags. It will list down all the saved tags at the left side providing you with an option to view content associated with the specific tag(s).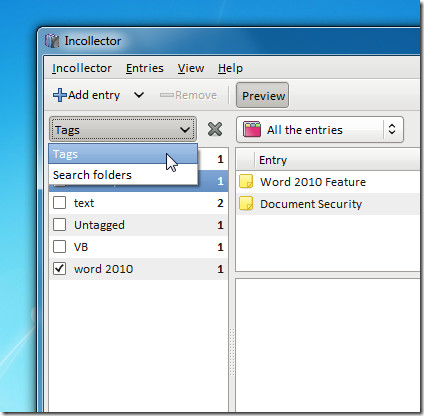 Another important feature it offers is to create and manage folders. It provides an option of applying conditions on folder's content, which helps greatly to keep specific type of content in particular folder(s).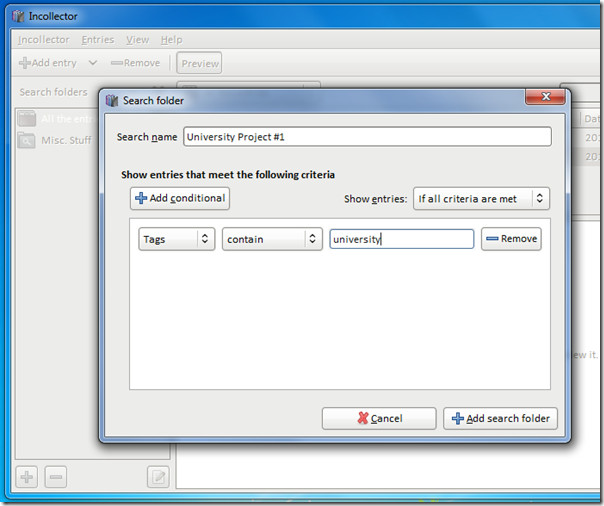 It sits in the system tray, thus, you really don't have to open it frequently. You can access search feature anytime via system tray icon's context menu and look for the saved content in its repository.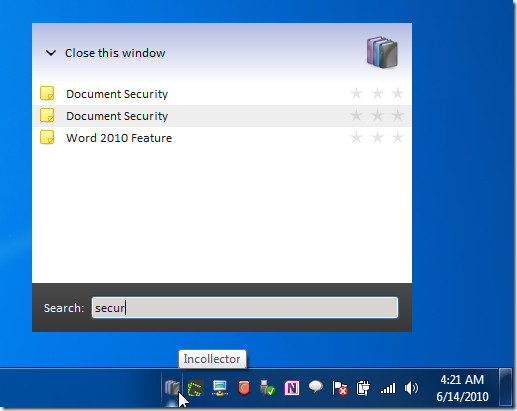 It runs on Windows XP, Windows Vista and Windows 7. Testing was done on system running Windows 7 32-bit OS.