INfoHesiveEP: Create & Publish ePublications In eBook, PDF, CHM Format
If you are a software developer, you must know the importance of creating a help manual while moving through different phases of SDLC (Software Development Life Cycle). Without a detailed help manual, it becomes quite difficult for your audience to completely understand the functionality and the usage of the software. However, if you don't want the hassle of creating help topics and compiling them into a single document, give InfoHesiveEP  a shot. The application is developed for creating e-Publications such as help manuals, eBooks, support guides etc. The utility allows you to export files in PDF, EPUB, MOBI, LIT, CHM, HTML, RTF and TXT formats, tweak document layout, manage important keywords, tag topics, create table of contents and index page(s), insert timestamps, tables, links, anchors and cover page image. Not only does it provide you with features to effortlessly fine tune your publication, it also lets you use basic formatting tools to remove text styles, edit anchor, manage indent and text alignment, insert and organize annotations and more. Read past the break for details.
The main interface includes File, Outliner, Editor, View, Insert, Format, Annotations, Tools and Settings menus at the top, the documents list appear at the left, while the document can be viewed and edited from the main window.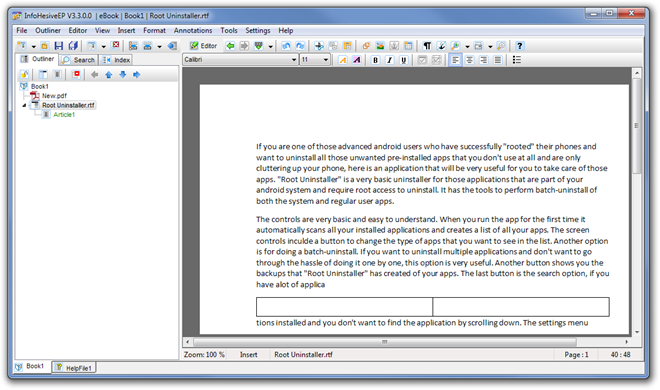 To add any existing documents, select File and choose Import from the list, but if you want to create new eBook, select the New eBook option, and a new tree will be created in the left side of the interface, which lets you easily organize the topics that you want to add to your document.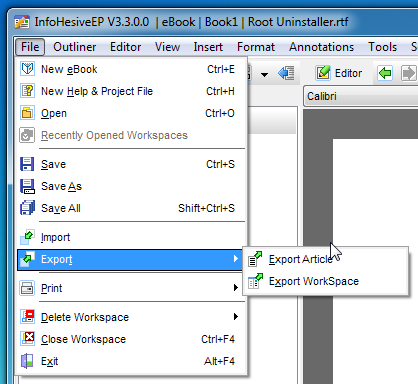 The Outliner menu holds add New Topic, New Article Item, user Templates, Create Table of Contents and Index Page, Tag the document, Organize Tags, Manage Keywords etc., options.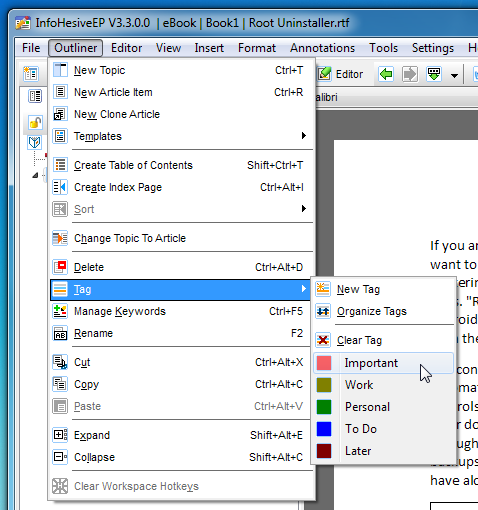 Along with simple editing tools including Cut, Copy, Paste, Undo, Redo, Find & Replace etc. The Editor tab allows you to edit the source of the file.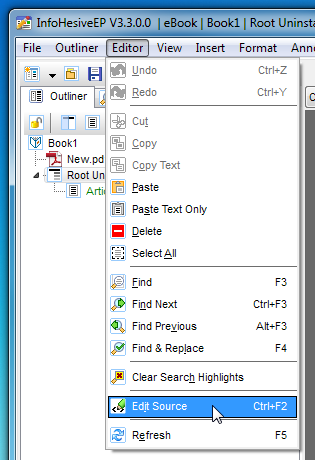 You can change viewing options from View menu, while the Insert menu allows you to add TimeStamp, Table ,Links, Images, Anchors etc. A Cover Image for the document can also be added by clicking the Cover Page Image option.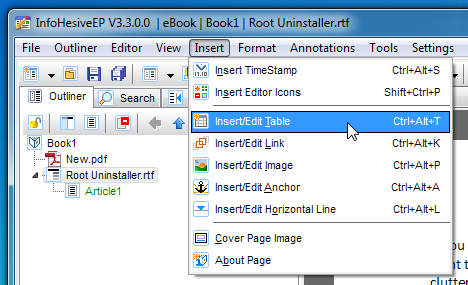 You can change the basic formatting of the document from the Format menu, which includes options like text alignment, indent, remove text styles and hyperlinks etc.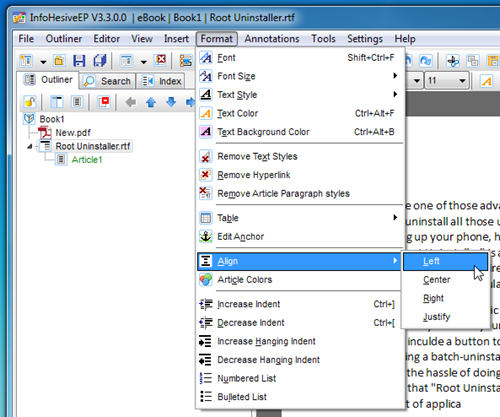 The Settings menu provides you access to Settings dialog box to configure the default application behavior including Workspace preferences, Program options, File Options, Backup Settings and Windows Options.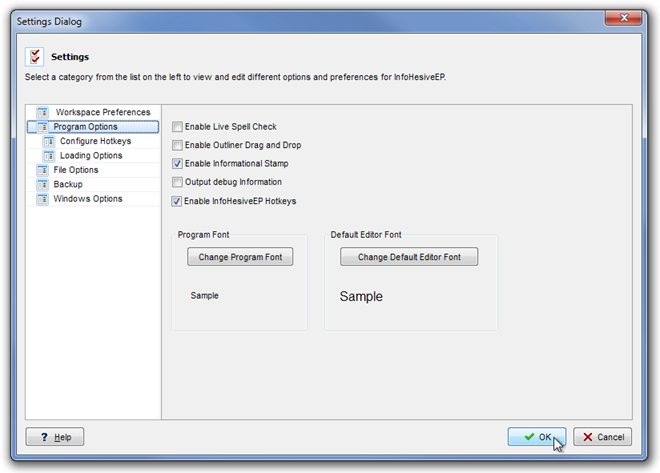 Once you've created or modified the document, select Export Article option from File–>Export menu, and then choose the required document format. InfoHesiveEP works on both 32-bit and 64-bit versions of Windows XP, Windows Visa, Windows 7 and Windows 8.