Inkulator For Windows 8 & RT Solves Handwritten Math Expressions
Windows 8 has an integrated calculator that we're long used to seeing in every iteration of Microsoft's operating system. On Windows 8, the application runs in Desktop mode, and contains different calculation modes like standard, scientific, programmer and statistics, along with a built-in unit conversion system. Though if the standard calculator interface that aims to emulates a real calculator doesn't suit your taste or you just want to try out something entirely different, give Inkulator a shot. It's a Windows 8 and RT app that takes an interesting approach to how you perform all your mathematical calculations. The application basically lets you input your queries via freehand writing on its canvas. You can write any number, calculation symbol and what not, either by touch gestures or with your mouse, and Inkulator will automatically interpret it into a computer-understandable mathematical expression.
Inkulator sports an elegant and user-friendly interface, with New, Help, Write and Erase buttons at the top and the Calculate button along with the result bar at the bottom. The input canvas at the center is home for writing any mathematical expression that you want to evaluate. You can perform a plethora of calculations, no matter how complex or complicated, and Inkulator will display the appropriate answer wherever possible. For now, you can only perform basic addition, subtraction, division and multiplication, but more complex expressions and functions like taking square root, exponentiation and more are in the works to be added later on.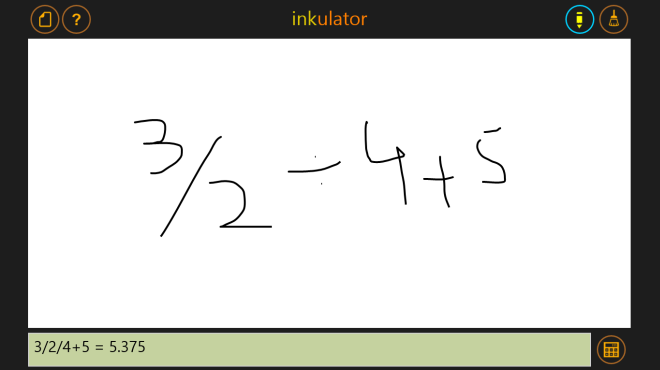 The usage is dead simple. Simply draw the mathematical expression on the screen with your finger in case of touchscreen devices or with a mouse on conventional PCs, and hit the Calculate button to obtain the results. The Erase button at the top-right comes handy if you want to remove an incorrectly drawn expression without actually starting from scratch. The application also works in both Landscape and Portrait modes – a nifty feature that can be very useful when using the app on tablet. You can use the New button at the top-left to start afresh.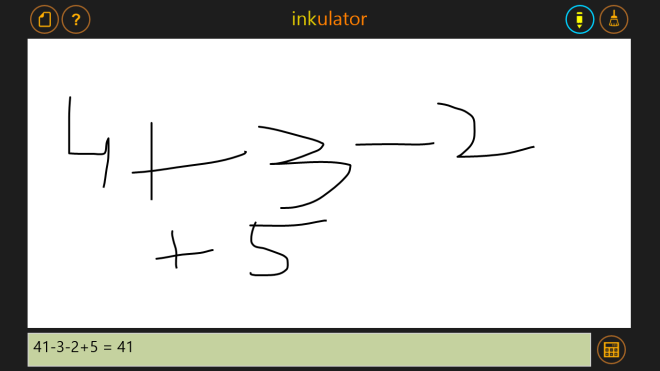 All in all, it's an excellent, fun to use app for Windows 8 and RT, which even Metro UI haters are going to appreciate. It currently lacks support for a lot of complicated calculations that many might need to make, but considering its price tag of free and how fun it is to use on touch screens, it's definitely worth having on your device. You can download it from Windows Store using the link given below. Testing of the app was carried out on Windows 8 Pro.