InScribe Brings Swype-Like Keyboard To Windows Tablets
Advancement in technology has led various inventions to emerge from nowhere. One such example is touchscreen phones and an umpteen number of apps available for them (yeah, I'm referring to iOS and Android) . One of the most exhilarating app on Android is Swype Keyboard. When Swype Keyboard came out, it took the Android world by storm. It is an innovation in keyboard technology that allows you to type on your phone's virtual keyboard without lifting up your finger off the screen for tapping. Just move your finger across the keyboard, from one letter to the next, and the final word will automatically appear on the screen. Even though the developers have remained shy to talk about the techniques used at its back-end, it surely have contributed towards collective jaw-drops. Now with InScribe, Windows users can also enjoy the fluid typing experience that the Swype concept brings, swiping their fingers or mouse across an on-screen keyboard. Even though the application is basically meant for touch screen Windows devices, it can also be used with a mouse. It has different keyboard layouts available to choose from, such as the standard QWERTY, NumberPad only, Email etc. Visual options allow you to change transparency of keyboard, enable highlighting vowels, auto-space on lifting finger, etc. Read more about InScribe after the break.
If you are already familiar with Swype keyboard on Android or the iPhone Cydia tweak that clones the concept, understanding this should be pretty simple for you. This application presents you with a translucent keyboard on your Windows device, allowing you to type text by dragging your finger/mouse over the letters.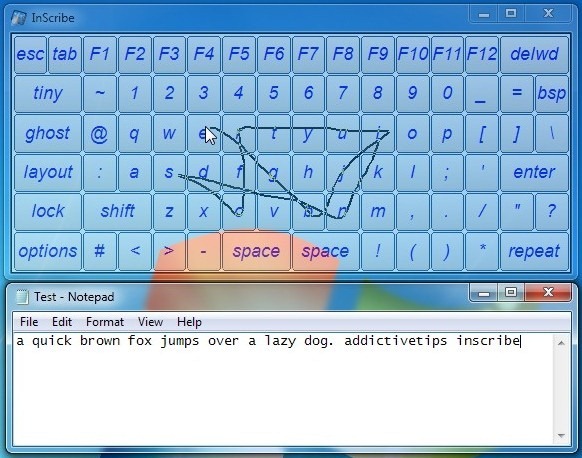 Other than the default QWERTY keyboard layout, the application provides you with some more layouts such as Email, NumberPad, QwertyLite and Special Characters. The can be accessed from the Choose layout submenu by right-clicking InSrcibe's system tray icon.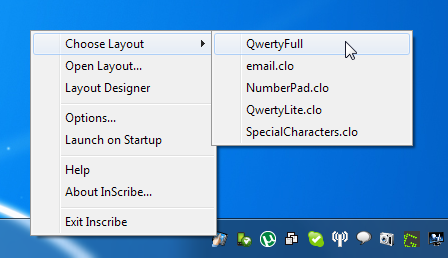 The Options window, accessible from the right-click menu, allows you to set the Key Font, Color and Style, change Transparency of the main interface and enable/disable Highlight Words, Stagger Keys, Space on Pen Up and Show Ink.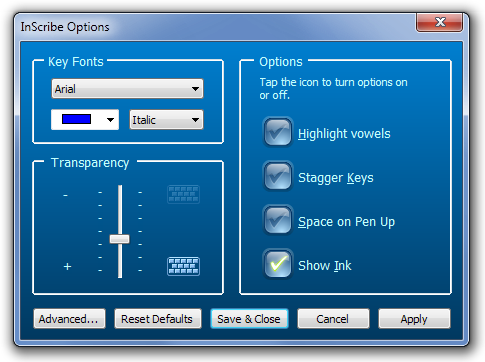 Needless to say, InScribe is based on a great concept, but it isn't ready to replace the stock on-screen keyboard. The keyboard doesn't have spell correction and word suggestions as of now, making the typing process a bit difficult at times. InScribe is a portable application and works on Windows 7 and Windows 8 tablets. Testing was carried out on Windows 7 64-bit.