Instant Eyedropper Is A System Tray Based Tool To View Color Codes
Yesterday, we covered Plastiliq PixelPicker, an application that allows you to view color codes in 10 different formats, such as RGB, ARM, HTML, CMYK, HEX etc. It can detect the color of items on your desktop and lets you view its view in a lot of formats, which can be quiet useful during web designing projects. Plastiliq PixelPicker has its own interface and a memory footprint of around 31 MB, but if you are looking for something lighter, you can check out Instant Eyedropper. It is a system tray based application with a memory foot print of only around 1.2 MB, which allows you to view color values and automatically copy the values to clipboard in multiple formats, without having to access any interface. More on Instant Eyedropper after the break.
After installation, the application can be accessed from the system tray. The way it works is that, to view the code of any color, left-click its system tray icon and drag your mouse on top of any item on your desktop to view its color code. For instance, if you want to view the color code of any pixel in the Windows logo on your desktop, left click the system tray icon and drag it over to the required pixel. A small window will popup along side the cursor, displaying the code of color in real-time. The popup window also has a built-in pixel magnifier that helps you to locate the code of the exact color that you are looking for.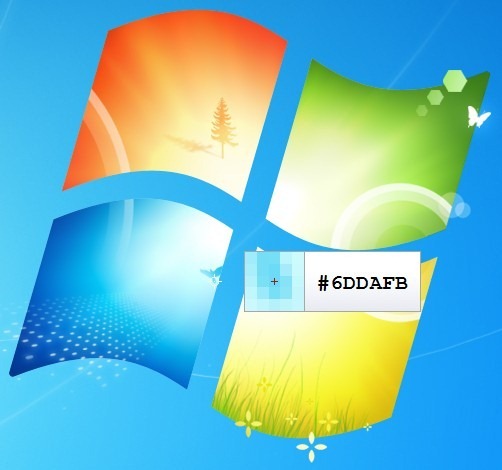 Right-click the system tray icon to change the format of color values. Instant Eyedropper supports HTML, Hex, Delphi Hex, VB Hex, RGB and HSB color codes.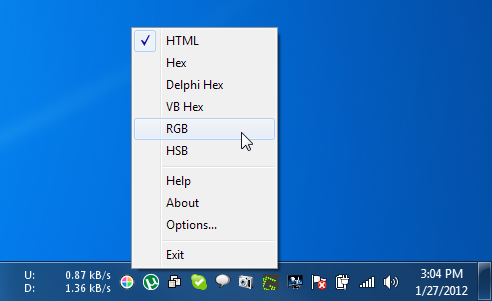 Select Options from the right-click menu to change startup behavior, Resolution of the pixel magnifier to specify number of pixels to show in the popup window, and specify the format style of color codes.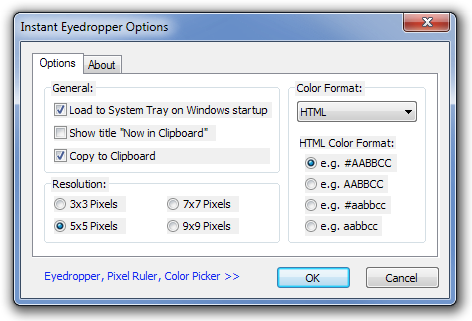 Apart from being very lightweight, it is a very useful application. However, we encountered some issues while interacting with the application. The system tray icon did not respond the same way overtime as we clicked on it. Sometimes, we had to keep the icon clicked for a long time to enable the pixel magnifier. Other than that, it can use support for some more color formats to increase its utility, and we hope that the developer will include these suggestions in the next update. Instant Eyedropper works on Windows XP, Windows Vista and Windows 7.