Integrate Crash Report Mechanism In Your Applications [Developers]
Crashrpt is an open source multi-lingual application designed primarily for reporting problems such as; application crash, program halt, etc during application execution. Generally when a software will crash, Dr. Watson error reporting dialog will appear which does not provides complete details about the crash. Crashrpt is built especially for applications' developers, who uses Microsoft Visual C++ for development and targets customers/clients/end-users running Windows OS. Apart from being a report generator, it provides multitude of options to; handle exceptions (C++ runtime), allow users to review crash report, use available ways to send report, and a lot more.
The usage can be breakdown in two dimensions, first the end user who are using the final product and second is application developer. To facilitates both actors in a convenient way, it provides options from both actors' perspective. For instance, developers will find Automate error report processing useful when they are overwhelmed with thousands of feedback from different users.
This feature provides developer with a simple API for accessing error report files & properties. As it is an open source application, any developer can easily insert the source code to let customers/clients send reports instantly on encountering any module/thread crash.
When users encounter any problem, it will automatically show the Error Report dialog.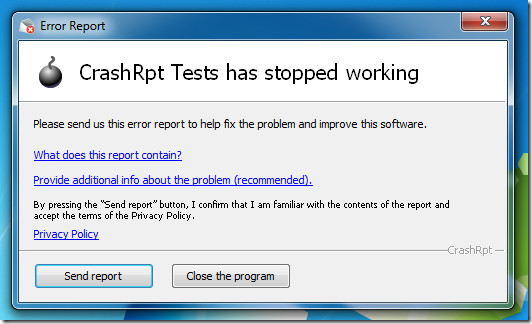 Users can view the report content by clicking What does this report contain. This will bring up Error Report Details, showing error report content. It also let user export the error report if he/she wants to peruse the matter in private. Click Export to let it save the report in Zip format.
On clicking Send report, it will use any possible way (HTTP, SMTP, MAPI) to send the report to developer.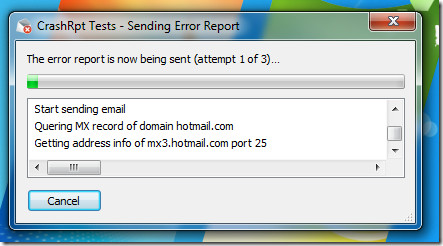 If you need to provide any additional details with the report, you can also add them by clicking Provide additional info about the problem. It will expand the dialog letting you enter email address and complete problem description.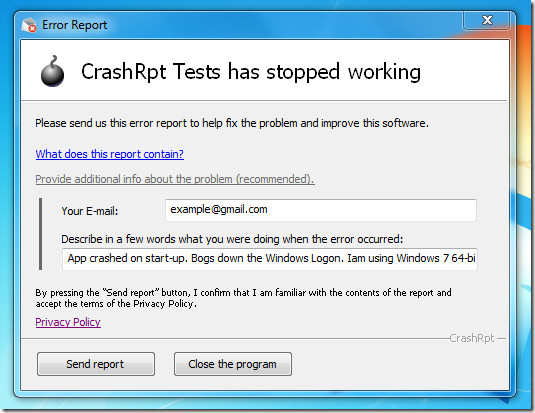 We have covered it from end-user's perspective. If you are a developer and looking for additional details on integrating it with your application check out the complete guide on author's page.