iPhone File Browser/Explorer Quickly Transfers Files To/From iPhone
Want to transfer files to iPhone or vice versa? There are tons of file managers out there which can be used to transfer files to and from iPhone, but nothing is more simpler than iPhone Explorer. Both Windows and Mac versions are available.
All you have to do is connect iPhone with your computer and start iPhone Explorer. There is a build-in option to edit a file, such as delete and rename. You can also create a new folder, by right-clicking anywhere and selecting New Folder. It works on the the principle of dragging and dropping, to copy a file to or from an iPhone simply drag & drop it to the desired location and it will start copying itself.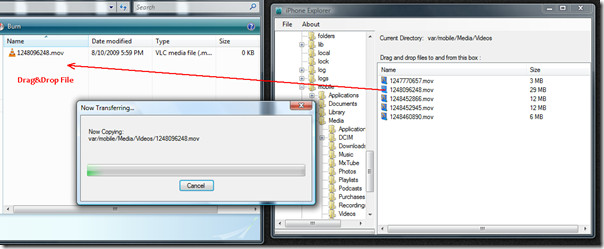 Click the above screenshot to enlarge
For starters, you will find your media files in the following directory:
var/mobile/Media
It not only works on latest iPhone, but also works on all previous versions of iPhone and iPod Touch devices. What is remarkable is that it is quite small in size, has fast file transfer, and allows you to access root(after showing a warning).
The supported Windows OS are Windows XP, Windows Vista, and Windows 7, while Mac OS X 10.5 or later are supported. Enjoy!