iVPN Is Fast, Anonymous VPN Service With Multihop Routing [Giveaway]
Virtual Private Network, generally known as VPN is a virtual network of 2 or more PCs connected with each to securely transmit data over internet. Over the years, the VPN technology has evolved a lot not only in terms of creating secured tunnels for transferring encrypted data but also to give anonymous channels to user to spoof ISP provided IPs and deceive other surreptitious tools that can anytime log user's online activity. While the concept of using VPNs is not limited to inter-organizational secure data transmission needs, users, who are in dire need to bypass ISP imposed restrictions to access some blocked websites or online data portals, rely more on VPN services instead of using proxy servers in order to keep their request send and receive processes encrypted, and thus, highly-confidential.
iVPN is a privately owned company that uses OpenVPN as underlying technology to provide highly secured VPN service. Since OpenVPN uses SSL and TLS security layers to create an encrypted tunnel for data transfer, all the data that you send and receive using iVPN can't be decoded by any external un-authorized sources. Furthermore, iVPN official community claims that user's data will not be monitored or logged at any stage of data transmission.
Note: iVPN is a paid VPN service, which offers different rates for monthly, quarterly, biannual, and annual subscribers starting at $15, $40, $70, and $100, respectively.  We are giving away 10 annual accounts (worth $1000 total) to our readers. More information on taking part in this giveaway is provided at the bottom of the post.
iVPN service, in contrast to many other free and paid VPN services, supports Multihop technology. For those who are not familiar with MultiHop routing, this technique routes user's request through multiple servers present at different locations to significantly enhance anonymity. You can anytime switch between different MultiHop servers or choose to stick with provided Singlehop servers. Additionally, iVPN, unlike other VPN services, uses premium gateways and multi-core servers to give fast internet access to users.
It offers both methods of using the VPN service OpenVPN and L2TP/IPSec; where the latter is designed to work on mobile platforms, including iOS and Android, you should go for OpenVPN GUI client to use the service on Windows, Mac, and Linux OS platforms. Once you've installed the OpenVPN GUI client, it will sit in system tray, waiting for user to start the service. If you've enabled auto-login option during the installation process, it will not ask for password each time you connect to VPN service. From system tray menu, select Singlehop connection or choose one among the Multihop routing connections and click Connect.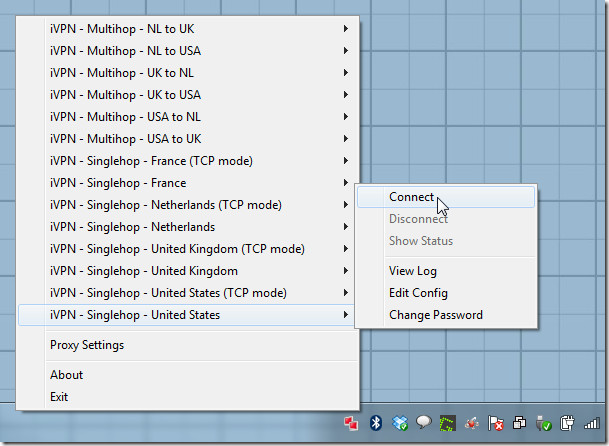 Underneath the list, the Proxy Settings lets you set the proxy server. It gives 3 basic settings; Use VPN Config-file Settings, Use IE settings (which you may have configured manually), or simple HTTP settings for using desired proxy server. When you click Connect, it will start user verification process while showing a log window to report errors (if occurred). A small notification pops up from system tray, showing the assigned IP when connection with specified server has been established.

iVPN also provides a web UI for subscribed users to check server list, and to edit account details. Under Server list, you can view the available server with their addresses, Status, P2P support, Bandwidth and other information.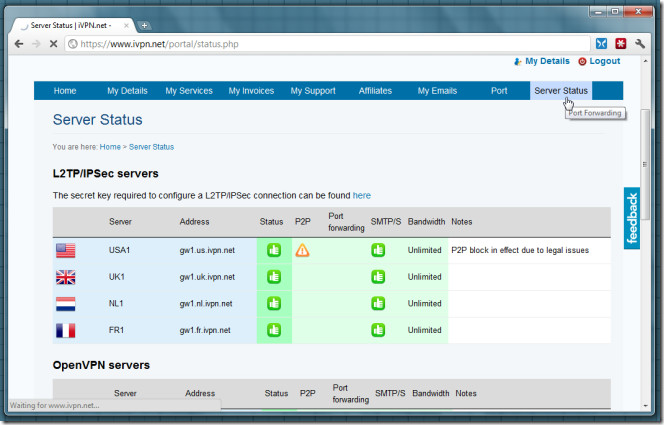 While testing, we were able to access restricted sites, such as, Hulu, Pandora, Spotify, etc from Asia. We tried accessing these restricted sites using both United States (US) and United Kingdom (UK) iVPN connection.
You can head over to iVPN product page to understand more about its features. The knowledgebase documents are also provided to help you install OpenVPN and L2TP/IPSec clients on respective mobile and desktop OS platforms.
Download OpenVPN GUI Installer
Giveaway
This giveaway will only last for 24 hours. Participation in the giveaway is simple. You need to either follow us at @addtips and tweet the giveway (also leave the link of the tweet in the comments box below), or leave a comment on our Facebook page telling us why you need this app. We will pick out 10 winners randomly!
Update: The giveaway is closed. We are in the process of picking out and notifying 10 winners.
Update 2: Giveaway licenses have been sent to winners.