Jajuk – Advanced Jukebox And Music Manager
Jajuk is a feature-rich, aesthetically elegant music jukebox software that offers a huge set of intuitive features to organize your scattered music collection. It provides a great deal of novel tools which allows you to create, edit and organize playlists, manage album covers, streamline music files, filter files albums/artists and genre-wise, view user-defined artist information/biography and maintain & analyze your music collection statistics under one hood.
Aside from a music management tool, it comes with minimalistic player to listen to your favorite tracks with basic playback options. Adding more, you can also rate songs, set favorites, and categorize music files into groups while real-time search feature is also available to quickly list down songs from like genre or artist.
The application offers nicely designed interface, flaunting all the primary tools in left sidebar. Running it for the first time prompts you to select folder(s) where your music archive is residing, however, files can also be added later. The main screen displays all the queued songs with meta information dispersed in different columns, above the main songs list, filter pane is kept handy to single out artist, genre, album name, and so on.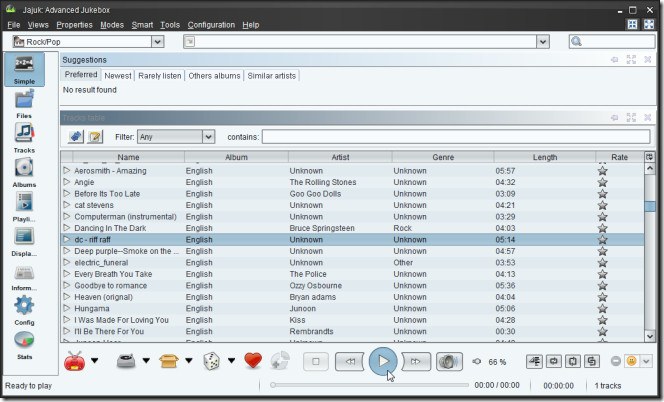 The left sidebar contains all the important tools/features to customize your collection, the File explorer offers a nice view to mange all the included files in your music archive, it also lets you search & download album covers. The right-click context menu provide further options to bookmark track, en-queue song into list while other basic file management options are also available along.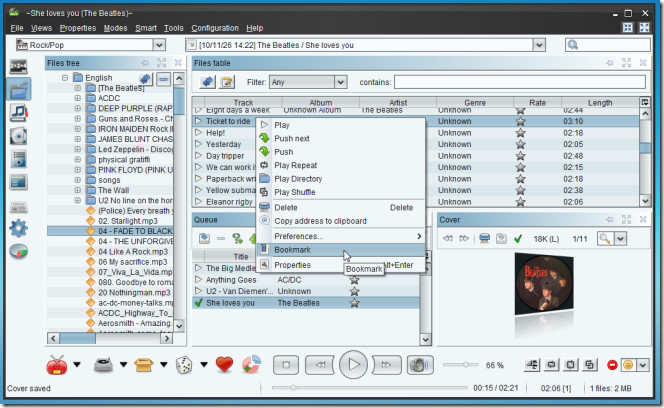 In Display window, you can view lyrics of the song you're listening to. All the playlists can be managed in Playlist window, you can easily create a new playlist while it offers a simple way to edit existing playlists as well. Click Information in left sidebar to view to artist Wikipedia page, other multimedia information is also provided to give you a detailed insight into the artist.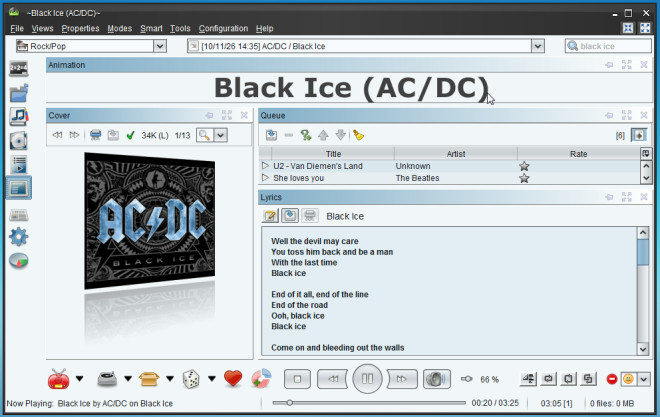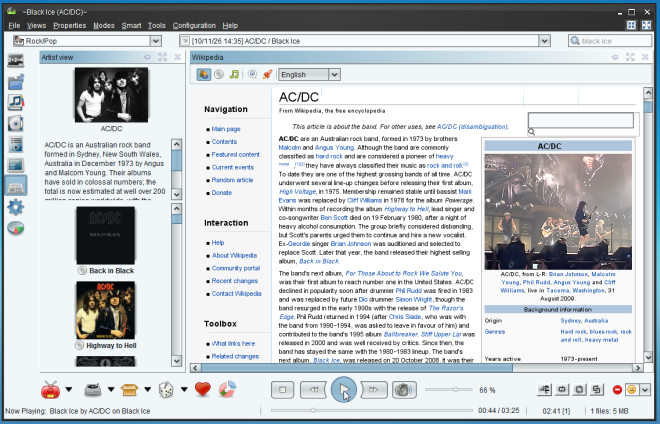 It records all the information regarding your music collection, you can view the generic statistics in multiple types of charts, it displays information based on different genres, increase in monthly collection size, increase in number of tracks, and total music archive size on disk in separate pie/bar charts to let you visually analyze your music collection.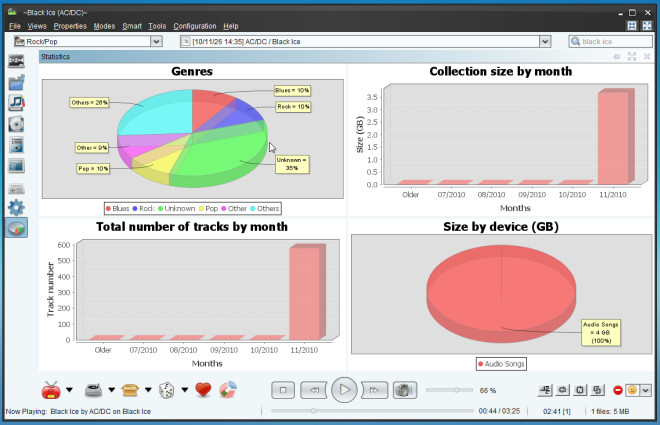 Last but not the least, the application itself is highly customizable, along with features-specific behaviors, you can also change look & feel of main interface, it offers a long list of beautiful themes and color layouts which can be applied anytime.
Overall, it is one great music jukebox, encompassing almost every little feature & tool which you can think of while managing one huge music collection. It requires JRE 1.6 or higher to work (perhaps a downside for many users). It is available for Windows, Mac, Linux OS platforms. Testing was done on Windows 7 x86 system.