JDContextMenu Adds Handy File/Folder Tools To Windows Right-Click Menu
Developed by IT-Nonstop, JDContextMenu is a small, yet powerful Windows shell extension that integrates with right-click context menu to offer numerous file and folder related tools. Since Windows doesn't offer a direct way for adding file and folder management specific tools to context menu, you will find this application extremely useful; it adds those options that we use on daily basis, such as copy full path of selected folder and only folder name to Windows clipboard, open folder in CMD, check file MD5 checksum, read and modify file's date and time stamps, add application to Windows Startup folder, clear junk from the folder etc. Additionally, it lets users create customizable favorite folders section, which can be accessed from right-click context menu. You can add as many folders to Favorites in order to quickly access them from its menu. Moreover, it enables you to sort available tools and options in required order. More on JDContextMenu after the jump.
Once the extension is installed, you can access its tools from Windows right-click context menu. If you don't see JDTools menu, restart your PC, and then right-click any file or folder to access its tools. The Folder specific options include copy complete folder name and source path to clipboard, open folder in CMD utility, create new folder in source folder, send full path as link to default email client and clean junk files from the selected folder.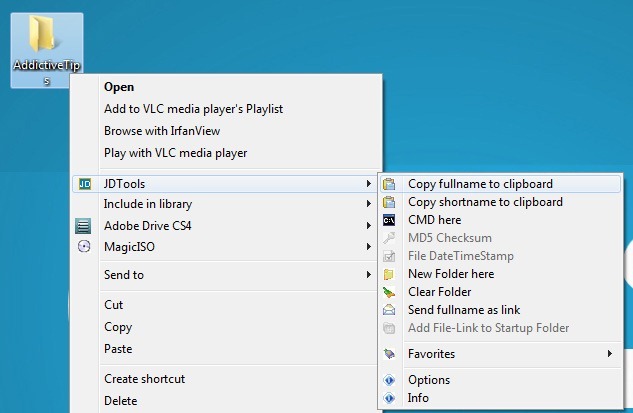 The Favorites sub menu allows you to add a list of favorite folders, so that you can quickly access them without having to manually navigate through different locations. The folders you add to Manage Favorites list can be accessed from Favorites sub menu.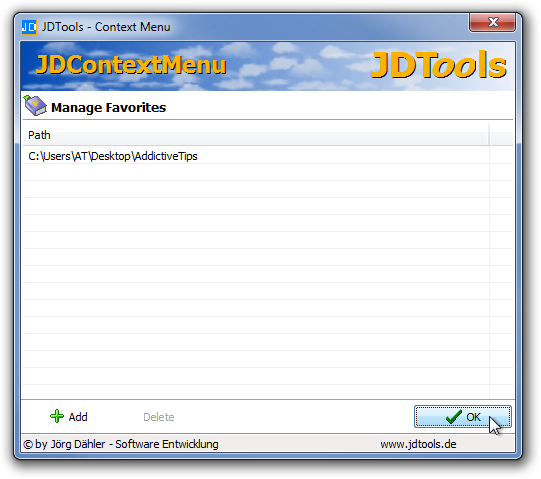 Clicking Clear Folder option lets you clean junk off the folder. It includes a file type filter to quickly remove *.~*, .bak, and .tmp files from the folder. However, you can specify as many extensions as you want to quickly remove all required file types from the folder. When you click Preview, it displays the files which will be removed. Clicking Delete will remove the junk files in one go.
JDContextMenu offers two extra tools for files namely MD5 Checksum and File DateTimeStamp. Using MD5 Checksum, you can generate and verify file checksum. Clicking this option opens a separate dialog with calculated checksum. You can compare this checksum values with orignal values to check the file integrity,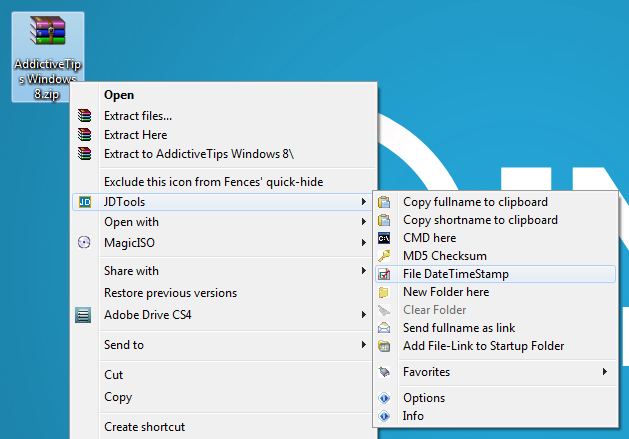 The File DateTimeStamp tool allows you to view and edit the created and last modified date and time stamps of selected file.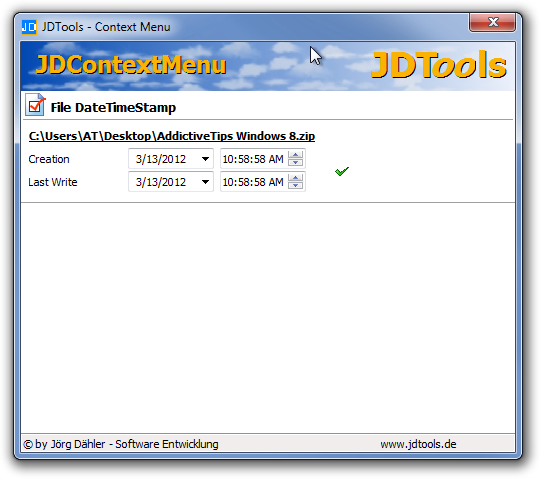 Clicking Options lets you change order of tools in JDTools menu. Just select the tool, and use the navigation buttons present in right sidebar to change the position of tool in the list.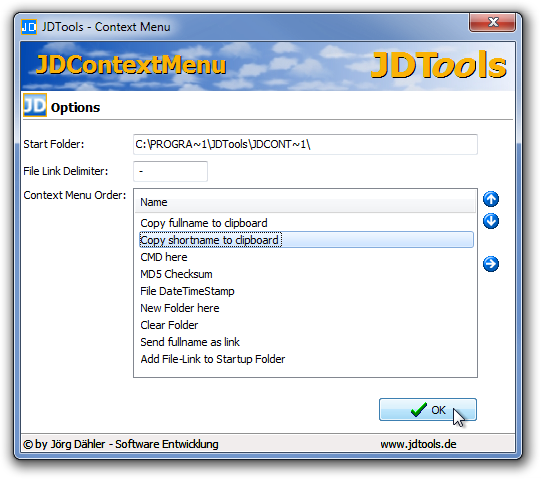 JDContextMenu is certainly quite a useful Windows shell extension for users who want to quickly perform basic file and folder management tasks. However, if you're looking for a more comprehensive tool with advance file and folder related options, have a look at CMenu.
It works on 32-bit version of Windows XP, Windows Vista and Windows 7.
Download JDContextMenu (2nd tool from top)