Jotta: Cloud Storage That Lets You Recover Accidentally Deleted Data
Backing up your important files is more important than most people think. For instance, one's Outlook can crash anytime, media files can go missing in an instant and those confidential documents always ask for some place safer. One of the most common things most people do whenever doing backups, is to store the data on local storage medium. However, the fact is that cloud services are not only safer, but often cheaper, too. No longer you need to carry thumb drives, optical media or moving plates to keep tabs on backup copies, when you can already store data to online locations with instantaneous remote access. Jotta is a cloud based online backup service that might help you in keeping your personal files safe and secure. Akin to most cloud services, such as Dropbox or SkyDrive, Jotta offers multiple subscription plans, including a free user account with 5GB of cloud storage. The service's client application is available for both desktop and mobile platforms, as well as a Web API.
Jotta's Windows client is very easy to work with. After installation, you're asked to input your Email and Password (you can sign up for the service for free, which doesn't even require a confirmation email) to link your current computer with your user profile.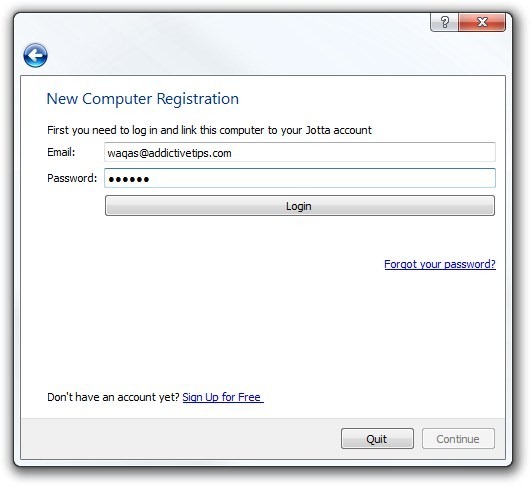 The interface of Jotta hints a straightforward usage, and the application adheres to that. It contains four tabs at the top; Backup, Restore, Transfers and Settings. Backup is where you do all the dragging and dropping of your directories to sync your files with the online storage. The desktop client (and Jotta itself, for that matter) has some uncanny behavior towards how it treats your files. For example, you can only drag a whole folder to the cloud – which means no individual file synchronization. On the bright side, Jotta keeps deleted files in Trash directory for up to 30 days – a nifty feature to recover accidentally deleted items. The backed up files can be easily restored under Restore tab.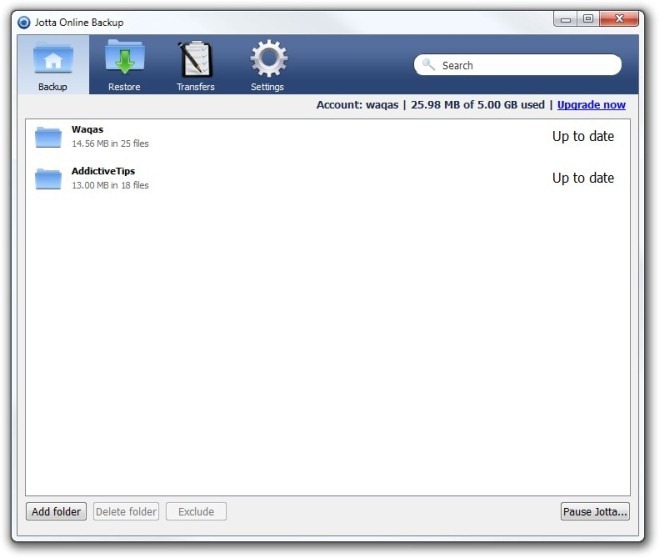 Files that are currently in the pipeline for upload or download to/from Jotta server, appear under Transfers tab. It shows both outbound and inbound transfers separately, under Uploads and Downloads sub-tabs.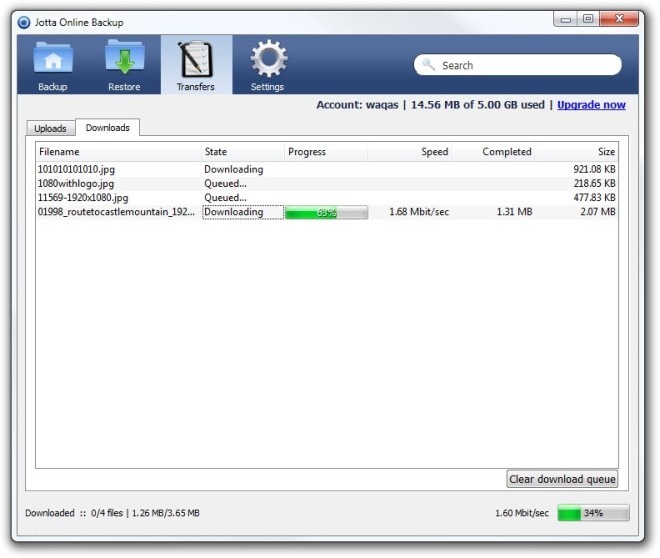 The application's Settings tab contains some generic parameters, as well as bandwidth, sync schedule and proxy options. For instance, Bandwidth sub-tab allows you to cap upload and download limits for file transfers. You may also specify the maximum number of simultaneous transfers. Moreover, you can also unlink current PC from your account within the General tab.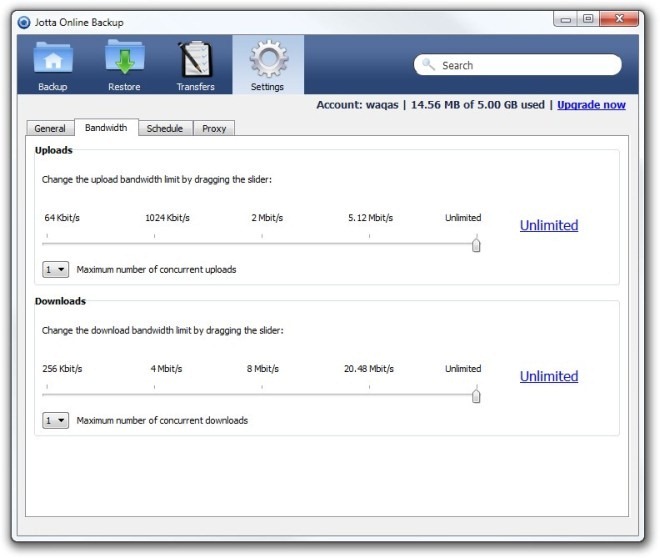 Jotta offers 5 GB of cloud storage on free accounts. Users with additional storage needs can always opt for paid subscriptions, which contains Jotta 20 GB and Jotta Unlimited plans for €2.99 and €5.99, respectively. The client application is available for Windows, Mac OS X, iOS and Android.